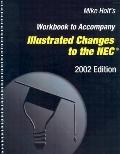 Workbook to Accompany Illustrated Changes to the NEC
Author:
ISBN-13:
9780971030725
ISBN:
0971030723
Pub Date:
2002
Publisher:
Holt Enterprises, Incorporated, Mike
Summary:
Nearly 5,000 changes were proposed for the 2002 NEC! Over 100 of them will have a significant impact on designing, installing and inspecting electrical systems. This workbook is intended to provide you with a simple summary of the changes and hundreds of practice questions to ensure that you understand the requirements.
Product Details
ISBN-13:
9780971030725
ISBN:
0971030723
Pub Date:
2002
Publisher:
Holt Enterprises, Incorporated, Mike