Principles of Microeconomics
Author:
15 Customer Product Reviews
ISBN-13:
9780538453042
ISBN:
0538453044
Edition:
6
Pub Date:
2011
Publisher:
South-Western College Pub
Summary:
This textbook is more than just a study aid it gives college students a rock solid understanding of microeconomic theory. This textbook outlines microeconomic principles really clearly and then continues to expand on each topic in a clear and easy to understand style. The pictures, charts and diagrams are also really useful in microeconomic textbooks and this one is no exception. This textbook can be purchased or ren
...
ted at a great price and you can expect good quality and condition.

Mankiw, N. Gregory is the author of Principles of Microeconomics, published 2011 under ISBN 9780538453042 and 0538453044. One thousand three hundred fifty four Principles of Microeconomics textbooks are available for sale on ValoreBooks.com, six hundred fifty used from the cheapest price of $22.09, or buy new starting at $99.99.
[read more]
Rent

$15.00

Used

$22.09

New

$99.99

Alternate

$11.98
Customer Product Reviews
15 REVIEWS

5 star

(7)

4 star

(6)

3 star

(2)

2 star

(0)

1 star

(0)
This book was amazing. I was interested through all of the reading.

The United States Government. It was extremely effective in covering the subject

read more

The subject of this book was Microeconomics. I thought the book was fairly good at describing the subject. It explained the material well and applied it to real like situation like farmers and markets. It was easier to read than some other textbooks.

I had to take Principles of Microeconomics. My teacher would sometimes say "Your book doesn't cover this" when he was giving us notes. But we could use our notes and book on the test. The book was easy to read and understand.

read more

The primary subject of the textbook was basic microeconomics, and how to apply such concepts to everyday situations.

The book gave problems and solutions related to those in class, further solidifying the concepts provided by the professor.

read more

The primary subject of this book is Microeconomics and its application in everyday life. The book covered the subject well. It was a great tool in understanding the basic principles of microeconomics.

The book had practice and review questions which helped me asses if I knew the information from the chapter or not. I read the chapters the night before class so it helped prepare me for every class.

read more

The book subject is microeconomics- which is basically small economies. The book was very successful in covering the subject.

I liked the review questions at the end of each chapter- they helped me prepare for my exams.

read more

The most important thing I learned was how our market works and the laws in place to keep our economy going.

The classes that required this textbook was Microeconomics. We learned tons of the market, how government can interfere, as was as other economy and how they work with our's

read more

I learned a great deal about this book. The order the book's material was set up was great. The way it was written made it easier to comprehend the material.

The most interesting things that I learned was the way our economy works and driving forces behind it.

read more

Describes terms very well and easy to comprehend.

Primary subject is microeconomics very on point while following along with my class.

read more

I used this for Economics 2010, the book helped me understand what was being taught by the professor. She did not require we have the book, but recommended it. I was very glad I did get the book

If I had the hardback copy. I also think for me bigger printing would be helpful as I have bad eyesight even with optical correction

read more

There are a lot of graphs in this textbook, it is necessary to illustrate what is being taught, so I don't know what could be changed.

Use up to date examples when explaining situations, make it more irrelevant to today's society.

read more

It would be a better book if there was more summarizing at the end. I felt like the things that I didn't enuderstand were not broken down for me duriong the review of materials. Other than that, it was very useful.

The class that I was taking was entitled "Principles of Microeconomics." The information in the book progressed gradually from general to complex. It was very easy to follow the more that I learned. Very helpful!

read more

The book was very thorough in going through Microeconomics. The format of the book was easy to read and easy to understand.Taking a complex subject and breaking it down to understand was very important for me, and this book accomplished that. This class used the textbook and an online format to correlate the readings to assignments which made learning even easier. This book is very user friendly. I chose to keep this book because of it's ease of use and for future reference.

First book that I have read on this topic. I didn't know what to expect with this class and this topic. Utilizing this book and the online assignments bridged the learning in the textbook to the corresponding assignments.

read more
SEE MORE REVIEWS
Product Details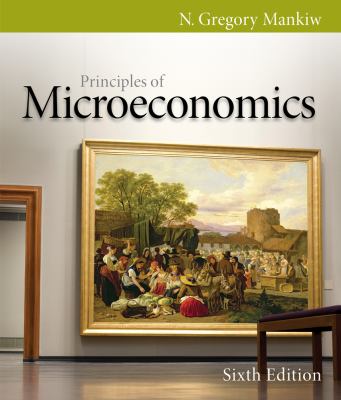 ISBN-13:
9780538453042
ISBN:
0538453044
Edition:
6th
Pub Date:
2011
Publisher:
South-Western College Pub
Valore Books is the top book store for cheap Principles of Microeconomics rentals, or used and new condition books that can be mailed to you in no time.