Principles of Macroeconomics
Author:
10 Customer Product Reviews
ISBN-13:
9780538453066
ISBN:
0538453060
Summary:
Make your college economics easier with this core text on the principles of macroeconomics. This economics textbook provides college students with a solid grounding in macroeconomic theory. Thorough subject coverage and detailed descriptions, diagrams and charts will guide you through the maze of economic study. Buying or renting cheap macroeconomic textbooks has never been easier with the massive choice of new and u
...
sed versions of this textbook available to ship within days. Our economics textbooks are offered pre-owned in as new or in very good condition.

N. Gregory Mankiw is the author of Principles of Macroeconomics, published under ISBN 9780538453066 and 0538453060. Six hundred fifty four Principles of Macroeconomics textbooks are available for sale on ValoreBooks.com, forty one used from the cheapest price of $27.00, or buy new starting at $111.19.
[read more]
Rent

$21.85

Used

$27.00

New

$111.19

Alternate

$12.16
Customer Product Reviews
10 REVIEWS

5 star

(4)

4 star

(3)

3 star

(2)

2 star

(1)

1 star

(0)
The way it was worded, for example the things that were mentioned made no sense at all.for example you had to find the avverage of the problem. If the book would have just said that it would be more understandable. They just went complicating the book even more

The different problems in the book.for example the problems were said one way but when it came time to express the problems it was something totally opposite than the wording i couldn't recommend the book because if i was cofused anyone else would be too.

read more

It was a class on economics- the study of supply and demand, the monetary system, short-run and long-run economic conditions.

I found it interesting to learn how the government controls the flow of money into the economy.

read more

I used this book for economic class. We discussed the ways in which the whole economy works.

I learned many new things about the way out economy works because of this book. I learned how a recession works and how to overcome it. I have also learned a lot of basic economic vocabulary.

read more

This is my first in-depth economics book. However, I touched briefly on economics in other subjects, those books actually explained the subject better.

There is no step-by-step teachings. No examples of the work we were covering.

read more

I would have quizzes at the end of each chapter. I did pass the Macroeconomics class with an A but the teacher taught us information that was in the book but in her own way so that the students could understand. This book was really helpful.

I learned about PPFs which I had trouble with at the beginning of my semester. I opened the book and read the chapters. I also learned about the circular flow diagram about our economy and how the diagram works.

read more

Just the main points of economics. This is my major so it helped a lot.

Great information. Best one out there and its a must get if you need a book for this area of economics

read more

Overall, I liked the book. I would have preferred to maybe have every formula separated from the text so it would be easy to find them when skimming through to find a certain formula.

Since it was only my first semester, I havent read any other book on Macroeconomics. If I had in the past, I would more than likely not remember it.

read more

Yes, It was a great reference tool to the course. Was able to find what I needed based on chapters.

More detailed explanations. Graphs too vage. Would like to see more updated real world information.

read more

I learned a lot and very much needed for Macroeconomics.

I took Principles of Macroeconomics and this course is for getting my Business degree and needed to graduate.

read more

This is the first book I have read on this subject matter, so I really have nothing to compare it to. What I can say is it have given me a better understanding about the economics of our country as well as others. The way that countries calculate their GDP is quite outdated. I think more items need to be included to get a true and accurate picture of the GDP.

If I had to change 1 thing in this book I might make the print just a little bit bigger.

read more
SEE MORE REVIEWS
Product Details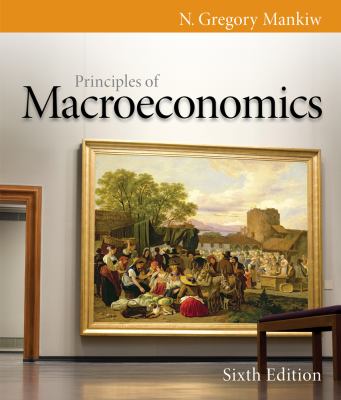 ISBN-13:
9780538453066
ISBN:
0538453060
ValoreBooks.com has some of the lowest prices for cheap Principles of Macroeconomics rentals, or new and used condition books for purchase.