Nutrition & Diet Therapy
Author:
ISBN-13:
9780766835672
ISBN:
0766835677
Publisher:
Thomson Learning
Summary: This introductory normal and clinical nutrition text is perfect for those seeking a broad, introduction to nutrition concepts presents nutrition at a basic, applied level, with little detailed physiology or biochemistry. NEW TO THE EDITION: In The News segments connect current events and headlines with nutrition & diet therapy concepts. Fully updated to the most recent dietary standards. Significant revisions to the ...management of diabetes to reflect new standards and treatments. On-line Companion available on-line for both students and instructors. Instructors may access teaching resources, as well as a library of additional cases for use in the classroom. Free CD-ROM at the back of the book that contains Flashcard software that reviews concepts on achapter-by-chapter basis. Web Activities in every chapter provide opportunities for students to explore nutrition concepts and resources on the Internet.

Roth, Ruth A. is the author of Nutrition & Diet Therapy, published under ISBN 9780766835672 and 0766835677. Twenty eight Nutrition & Diet Therapy textbooks are available for sale on ValoreBooks.com, twenty seven used from the cheapest price of $0.01, or buy new starting at $16.07. [read more]
Product Details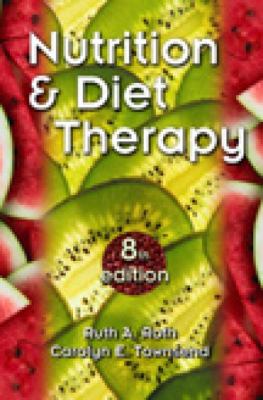 ISBN-13: 9780766835672
ISBN: 0766835677
Publisher:
Thomson Learning
ValoreBooks.com is the top book store for cheap Nutrition & Diet Therapy rentals, or new and used condition books for purchase.