Human Molecular Genetics
Author:
ISBN-13:
9780130428110
ISBN:
0130428116
Edition:
2
Pub Date:
2002
Publisher:
Prentice Hall
Summary:
This second edition of Human Molecular Genetics continues to provide a clear introduction to this complex and fast moving field. Now updated and revised throughout, the material covered has been carefully selected and structured to provide a concise overview for students studying the subject as part of a general biology, genetics or medical degree. A milestone in science has been reached through the publication of dr
...
aft sequences of the human genome and this is reflected in changes to the book. A new chapter details the methodology used, what was revealed about genome structure and evolution and how the genome sequence will be exploited in diagnosing and treating common diseases. The chapter on complex diseases has also been completely rewritten to reflect new strategies for searching for the genes involved in such disorders. Finally, the human genome project has opened up new prospects in population genetics and evolution and these are discussed in a rewritten chapter. Features * Concise, up-to-date introduction to the subject * "New "chapters on sequencing and structure of the human genome* "New "chapter on complex disorders, including population surveys using SNPs * "Fully revised" chapter on human population genetics and evolution* Boxed case studies and techniques * Includes important genetic disorders and genetic counselling * References updated through a linked Web site. The text is aimed at courses in Human Genetics, Human Molecular Genetics and The Molecular Basis of Disease taught within Biology, Biochemistry, Biomolecular Sciences, Biomedical Sciences, Genetics and medical and other health-care degrees. Peter Sudbery is Senior Lecturer in Genetics at the Departmentof Molecular Biology and Biotechnology at the University of Sheffield. "The Cell and Molecular Biology series provides introductions to key, exciting areas of cell and molecular biology, stimulating student's imaginations and initiative to bridge the gap between memorising concepts and the active approach needed for research and literature review projects. This active learning series also introduces students to experimental design and information retrieval and analysis, including exploration of the World Wide Web."

Sudbery, Peter is the author of Human Molecular Genetics, published 2002 under ISBN 9780130428110 and 0130428116. Twenty three Human Molecular Genetics textbooks are available for sale on ValoreBooks.com, five used from the cheapest price of $1.82, or buy new starting at $73.50.
[read more]
Used

$1.82

New

$73.50

Alternate

$20.00
Product Details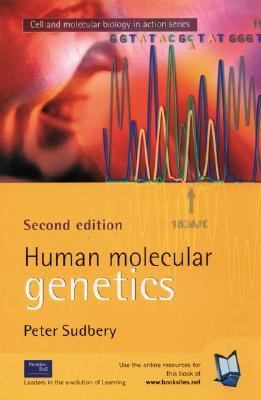 ISBN-13:
9780130428110
ISBN:
0130428116
Edition:
2nd
Pub Date:
2002
Publisher:
Prentice Hall
www.ValoreBooks.com is a student's number one resource for cheap Human Molecular Genetics rentals, or used and new condition books that can be mailed to you in no time.