Group Theory
Author:
ISBN-13:
9780070041240
ISBN:
0070041245
Pub Date:
1968
Publisher:
McGraw-Hill Companies, The
Summary: Confusing Textbooks? Missed Lectures? Not Enough Time?Fortunately for you, there's Schaum's Outlines. More than 40 million students have trusted Schaum's to help them succeed in the classroom and on exams. Schaum's is the key to faster learning and higher grades in every subject. Each Outline presents all the essential course information in an easy-to-follow, topic-by-topic format. You also get hundreds of examples, ...solved problems, and practice exercises to test your skills.This Schaum's Outline gives you Practice problems with full explanations that reinforce knowledge Coverage of the most up-to-date developments in your course field In-depth review of practices and applicationsFully compatible with your classroom text, Schaum's highlights all the important facts you need to know. Use Schaum's to shorten your study time-and get your best test scores!Schaum's Outlines-Problem Solved.

Baumslag, C. B. is the author of Group Theory, published 1968 under ISBN 9780070041240 and 0070041245. Forty Group Theory textbooks are available for sale on ValoreBooks.com, thirty three used from the cheapest price of $3.99, or buy new starting at $9.53. [read more]
Product Details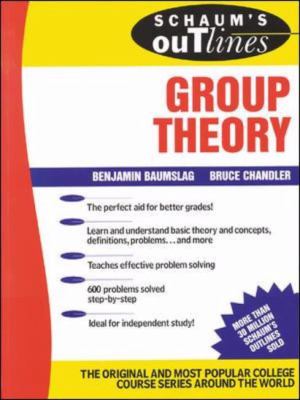 ISBN-13: 9780070041240
ISBN: 0070041245
Pub Date:
1968
Publisher:
McGraw-Hill Companies, The
Valore Books is hard to beat for cheap Group Theory rentals, or used and new copies available to buy.