Medieval Textbooks
Browse New & Used Medieval Textbooks
Do you have a fascination for medieval times and stories? If the idea of reading fictional stories based in this era appeals to you, why not buy medieval textbooks from us today? Affordable prices are guaranteed here, and we've got some fine text books for you to choose from as well. Historical books are sometimes aimed purely at adults, but that's not the case here. Instead you can rent cheap medieval textbooks that are aimed at kids. This should provide them with some amazing stories to read, including Green Men of Gressingham; My Dad the Dragon; and the wonderfully titled Heroic Adventures of Hiccup the Viking: The First Collection. Discounted prices are easy to find once you start looking on our website, with the cheapest books you'll find anywhere right here. When you realize how many great deals and book titles we've got, you probably won't want to go anywhere else.
Results 1 - 8 of 8 for Medieval Textbooks
1.
My Dad the Dragon
by French, Jackie, King, Steph...
ISBN: 9781598893434
List Price: $22.60
2.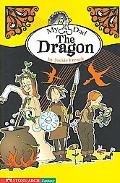 3.
4.
5.
6. 7. 8. Showing 1 - 8 of 8 - Browse More Medieval Textbooks for Sale