Wideband Wireless Digital Communications
Author:
ISBN-13:
9780130223333
ISBN:
0130223336
Edition:
1st
Pub Date:
2000
Publisher:
Prentice Hall PTR
Summary:
The comprehensive, up-to-date guide to wideband digital wireless communication methods Edited by Andreas F. Molisch, with contributions from George Chrisikos, Savo Glisic, Alois M. J. Goiser, Brian Hart, Aarne Mammela, Thomas May, Andreas F. Molisch, Hermann Rohling, Desmond Taylor, Giorgio Vitetta, and Moe Z. Win. Wideband digital wireless systems are poised for enormous growth, driven by wireless Internet access an
...
d other compelling applications. In Wideband Wireless Digital Communications, Andreas F. Molisch has brought together the field's leading contributors in a timely, thorough guide to the state of the art. This book offers comprehensive technical explanations and comparisons of every leading wireless wideband approach used in today's systems, as well as those for the new third-generation systems such as UMTS, CDMA-2000, and HIPERLAN2, and features an extensive bibliography. Coverage includes: Key data for the air interface of leading digital wireless systems, including GSM, IS-95, and IS-54 Unequalized systems: transmitter and receiver models, computation methods and performance of standard modulation methods, advanced modulation formats, adaptive sampling, and antenna diversity Equalization: channel description methods, optimum decision rules (maximum likelihood sequence detection, maximum a-posteriori bit and symbol detectors, matched filter bound), and equalization algorithms (Viterbi algorithm, reduced-complexity MLSD, decision feedback equalizers, linear equalizers, diversity) Orthogonal Frequency Division Multiple Access (OFDM): basic transmission/reception techniques; shaping of basic pulses; timing and carrier frequency synchronization; modulation/demodulation; coding; and peak-to-average reduction techniques CDMA: design, standard and advanced Rake receiver structures, code acquisition/tracking, channel estimation, and capacity issues Next-generation wideband wireless systems present unprecedented challenges at every stage of the design process. With Wideband Wireless Digital Communications, engineers and other technical professionals have a single comprehensive resource for solving these problemsand delivering systems with optimal performance and capacity.

Andreas F. Molisch is the author of Wideband Wireless Digital Communications, published 2000 under ISBN 9780130223333 and 0130223336. Two hundred twelve Wideband Wireless Digital Communications textbooks are available for sale on ValoreBooks.com, three used from the cheapest price of $3.98, or buy new starting at $36.00.
[read more]
Used

$3.98

New

$36.00

Alternate

$18.50
Product Details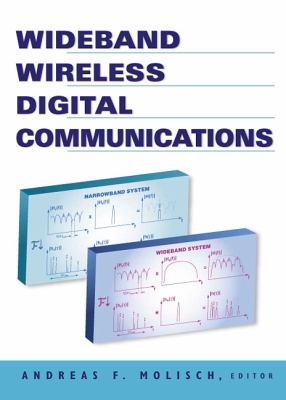 ISBN-13:
9780130223333
ISBN:
0130223336
Edition:
1stth
Pub Date:
2000
Publisher:
Prentice Hall PTR
Valore Books has some of the lowest prices for cheap Wideband Wireless Digital Communications rentals, or used and new condition books that can be mailed to you in no time.