Who Can Save Us Now?
Author:
ISBN-13:
9781416566441
ISBN:
1416566449
Publisher:
Simon & Schuster
Summary:
INTRODUCTION In 1938 a gawky, bespectacled man walked through a door, and when it opened again, a benevolent giant in red and blue tights emerged, gave a wink, and lifted right off the pages of ACTION COMICS #1 and into the sky. As the years have gone by, countless other champions have joined this remarkable gentleman in the firmament of the popular imagination, and created a mythology for the twenty-first century. H
...
owever, in the sixty years since Jerry Siegel and Joe Shuster created Superman, our collective story has grown a good deal more complex. The black-and-white conflict of World War II is a speck in the rearview mirror, and the road ahead is a smashed causeway north of Baghdad. Racial and sexual politics have been radically transformed. Technology has made our planet miraculously and terrifyingly small. It's more apparent than ever that the worst of the bad guys don't wear spandex and live in underground ice palaces in Antarctica, but can generally be found in three-piece suits at the head of gleaming boardroom conference tables. The raccoon-eyed purse-snatchers of the Golden Age comic books are the least of our problems. We have suicide bombers, dwindling oil reserves, global warming, and an international community in complete disrepair. Not even the biggest and broadest bulletproof chest could stop all these out-of-control locomotives. To put it bluntly, Superman just wasn't built for times like these. The antidote? You're holding it in your hands! Within these pages, you'll find twenty-two brand-new stories about men and women whose amazing abilities reflect and address our strange and confusing new conditions. These superheroes are different from the Technicolor do-gooders you remember from the rack at the drugstore. These heroes are conflicted, frustrated, freaked out, and desperate; they're brave and afraid and not sure; they're a little nuts. In other words, you're going to recognize these people -- they're a lot like us. And the supervillains? We've got them, too. And maybe they're even more familiar, those carnival glass reflections of our murkiest compulsions. Who Can Save Us Now'introduces a plethora of origin stories (How does a girl with bad luck come to shape the events around her? How did a band of Quick Stop drones become an unlikely team of superheroes?); stories of heroes whose powers derive from nature's most peculiar creatures (A flock of flying orphans, anyone?); stories of the sinister draw that unbelievable power has on all-too-believable men and women (Why is it that this little town never had any trouble until that band of superheroes showed up? What becomes of a man whose soul has been lit on fire?); and stories in which the extraordinary is used to help the ordinary and protect the innocent (What awesome power is capable of manipulating televangelists into assisting those truly in need? What vast strength empowers the hero of this city's disregarded streets, the defender of its disregarded people?). You'll meet the Big Guy, the Rememberer, the Meerkat, Mr. Big Deal, the Silverfish, Bad Karma Girl, Ghetto Man, and, yes, even Bob Brown. You'll see submarine monstrosities, fiery conclusions, reporters searching for answers, and neighborhood taverns destroyed. Whether your own origin story includes an obsession for comic books and a penchant for the darker worlds of graphic novelists like Frank Miller and Alan Moore, or a love for superhero-inspired literary fare likeThe Fortress of SolitudeandThe Adventures of Kavalier and Clay, we promise that within these pages you'll find stories that suspend your disbelief without insulting your intelligence. How are we going to stay alive in this world of trouble? Read on! Can anyone save us now? We repeat: Read on! What use is all this fancy in the face of so much real darkness? If we're honest, we have to concede that it's probably no use at all. The sky is falling. And

King, Owen is the author of Who Can Save Us Now?, published under ISBN 9781416566441 and 1416566449. Two hundred forty nine Who Can Save Us Now? textbooks are available for sale on ValoreBooks.com, one hundred sixteen used from the cheapest price of $0.01, or buy new starting at $2.35.
[read more]
Product Details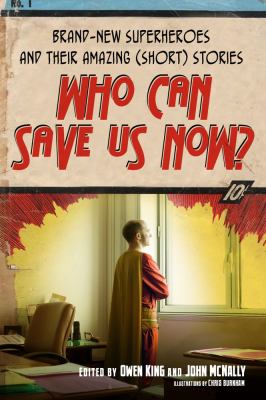 ISBN-13:
9781416566441
ISBN:
1416566449
Publisher:
Simon & Schuster
www.ValoreBooks.com is the college student's top choice for cheap Who Can Save Us Now? rentals, or used and new copies available to buy.