Vertebrate Endocrinology
Author:
ISBN-13:
9780120887682
ISBN:
0120887681
Edition:
4
Pub Date:
2006
Publisher:
Academic Pr
Summary:
Chemical bioregulation is the basis for regulation of all development, physiology, and behavior in animals. Vertebrate Endocrinology represents more than just a treatment of the endocrine systemit integrates hormones with other chemical bioregulatory agents not classically included with the endocrine system. It provides a complete overview of the endocrine system of vertebrates by first emphasizing the mammalian syst
...
em as the basis of most terminology and understanding of endocrine mechanisms and then applies that to non-mammals. The serious reader will gain both an understanding of the intricate relationships among all of the body systems and their regulation by hormones and other bioregulators, but also a sense of their development through evolutionary time as well as the roles of hormones at different stages of an animals life cycle. The Fourth Edition has been reorganized and completely updated including the addition of many new bioregulators, new and revised figures and tables, and a new emphasis on endocrine disruption caused by environmental chemicals of human origin. About the Author Dr. Norris has done research in environmental endocrinology and neuroendocrinology for more than 40 years, investigating the role of natural (e.g., photoperiod, temperature) and anthropogenic environmental factors (metals, pesticides, estrogens, industrial pollutants) on thyroid, adrenal, and reproductive endocrinology in regards to development, sexual maturation, seasonal reproduction, and aging. Most of his research has involved fishes and amphibians. Dr. Norris has recently been honored with the Robert L. Stearns Award for outstanding teaching at the University of Colorado, Boulder. For additional teaching materials, please visit: http://books.elsevier.com/companions/0120887681

Norris, David O. is the author of Vertebrate Endocrinology, published 2006 under ISBN 9780120887682 and 0120887681. Ten Vertebrate Endocrinology textbooks are available for sale on ValoreBooks.com, one used from the cheapest price of $30.50, or buy new starting at $54.60.
[read more]
Used

$30.50

New

$54.60

Alternate

$38.99
Product Details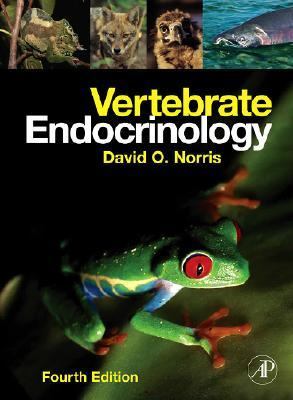 ISBN-13:
9780120887682
ISBN:
0120887681
Edition:
4th
Pub Date:
2006
Publisher:
Academic Pr
Valore Books is unbeatable for cheap Vertebrate Endocrinology rentals, or new and used condition books ready for you to buy.