Unofficial Guide to Microsoft Office 2007
Author:
ISBN-13:
9780470045879
ISBN:
0470045876
Pub Date:
2006
Publisher:
Wiley & Sons, Incorporated, John
Summary: The inside scoop... for when you want more than the official line! Microsoft Office 2007 may be the leading office productivity suite, but to use it with confidence, you'll need to know its quirks and shortcuts. Find out what the manual doesn't always tell you in this insider's guide to using Office 2007 in the real world. What's the best way to handle everyday tasks? How do you collaborate with other users? From exp...loring the new user interface to saving files in HTML or in the new XPS format, first get the official way, then the best way from an expert. Unbiased coverage of how to get the most out of the Office suite, including Word, Excel , PowerPoint , Access, and Outlook Savvy, real-world advice, from how to use Office templates, create dynamic slide shows, and manage contacts to controlling data and your security Time-saving techniques and practical guidance on how to work around Office quirks, avoid pitfalls, and increase your productivity Tips and hacks on assigning shortcut keys, creating custom Calendar views, personalizing Toolbars, and using digital signatures Sidebars and tables on permissions and encryption; public Calendar folders; statistical, financial, and mathematical functions; and more Watch for these graphic icons in every chapter to guide you to specific practicalinformation. Bright Ideas are smart innovations that will save you time or hassle. Hacks are insider tips and shortcuts that increase productivity. When you see Watch Out! heed the cautions or warnings to help you avoid commonpitfalls. And finally, check out Inside Scoops for practical insights from the author. It's like having your own expert at your side!

McFedries, Paul is the author of Unofficial Guide to Microsoft Office 2007, published 2006 under ISBN 9780470045879 and 0470045876. Four hundred eighty three Unofficial Guide to Microsoft Office 2007 textbooks are available for sale on ValoreBooks.com, one hundred sixteen used from the cheapest price of $0.01, or buy new starting at $13.27. [read more]
Product Details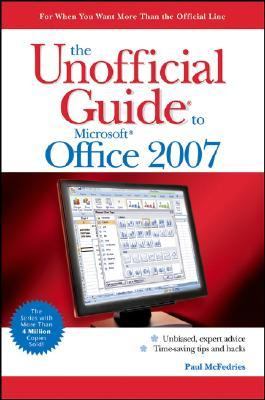 ISBN-13: 9780470045879
ISBN: 0470045876
Pub Date:
2006
Publisher:
Wiley & Sons, Incorporated, John
Valore Books has some of the lowest prices for cheap Unofficial Guide to Microsoft Office 2007 rentals, or used and new condition books that can be mailed to you in no time.