Unix The Complete Reference
Author:
ISBN-13:
9780072263367
ISBN:
0072263369
Edition:
2
Pub Date:
2006
Publisher:
McGraw-Hill Osborne Media
Summary:
The Definitive UNIX Resource--Fully Updated Get cutting-edge coverage of the newest releases of UNIX -- including Solaris 10, all Linux distributions, HP-UX, AIX, and FreeBSD -- from this thoroughly revised, one-stop resource for users at all experience levels. Written by UNIX experts with many years of experience starting with Bell Laboratories UNIX: The Complete Reference, Second Edition provides step-by-step instr
...
uctions on how to use UNIX and take advantage of its powerful tools and utilities. Get up-and-running on UNIX quickly, use the command shell and desktop, and access the Internet and e-mail. You'll also learn to administer systems and networks, develop applications, and secure your UNIX environment. Up-to-date chapters on UNIX desktops Samba, Python, Java Apache, and UNIX Web development are included. Install, configure, and maintain UNIX on your PC or workstation Work with files, directories, commands, and the UNIX shell Create and modify text files using powerful text editors Use UNIX desktops, including GNOME, CDE, and KDE, as an end user or system administrator Use and manage e-mail, TCP/IP networking, and Internet services Protect and maintain the security of your UNIX system and network Share devices, printers, and files between Windows and UNIX systems Use powerful UNIX tools, including awk, sed, and grep Develop your own shell, Python, and Perl scripts, and Java, C, and C++ programs under UNIX Set up Apache Web servers and develop browser-independent Web sites and applications

Rosen, Kenneth H. is the author of Unix The Complete Reference, published 2006 under ISBN 9780072263367 and 0072263369. Five hundred fifty seven Unix The Complete Reference textbooks are available for sale on ValoreBooks.com, seventy five used from the cheapest price of $2.88, or buy new starting at $48.80.
[read more]
Rent

$21.31

Used

$2.88

New

$48.80

Alternate

$18.10
Product Details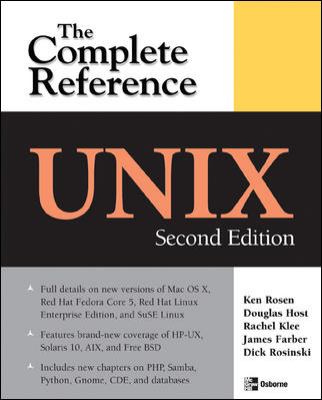 ISBN-13:
9780072263367
ISBN:
0072263369
Edition:
2nd
Pub Date:
2006
Publisher:
McGraw-Hill Osborne Media
ValoreBooks.com is the best place for cheap Unix The Complete Reference rentals, or used and new condition books available to purchase and have shipped quickly.