Understanding Music
Author:
ISBN-13:
9780132233323
ISBN:
0132233320
Edition:
5
Pub Date:
2007
Publisher:
Prentice Hall
Summary: For one semester/quarter undergraduate-level courses in Music Appreciation. Understanding Music teaches students what to listen for in music. Jeremy Yudkins text is a rich music appreciation program that supports the instructors ultimate goal of teaching active listening. By focusing on music of the Western tradition in its social, historical, and global context, this text engages students in an active listening expe...rience of music through a lively narrative and innovative activities all supported by accompanying CD recordings, web-based listening, and listening guides.

Yudkin, Jeremy is the author of Understanding Music, published 2007 under ISBN 9780132233323 and 0132233320. One hundred forty four Understanding Music textbooks are available for sale on ValoreBooks.com, nineteen used from the cheapest price of $0.23, or buy new starting at $12.80. [read more]
Rent $21.87
Used $0.23
New $12.80
Alternate $1.90
Product Details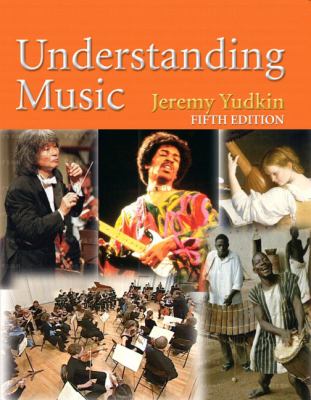 ISBN-13: 9780132233323
ISBN: 0132233320
Edition: 5th
Pub Date:
2007
Publisher:
Prentice Hall
ValoreBooks.com is the best place for cheap Understanding Music rentals, or used and new condition books that can be mailed to you in no time.