Understanding Comics
Author:
1 Customer Product Review
ISBN-13:
9780060976255
ISBN:
006097625X
Pub Date:
1994
Publisher:
Harpercollins
Summary: "Should be primary reading for anybody who wants to present information in its most potently concentrated form--that is, through images....There's a brilliant discussion of comic art...but the discussion approaches an understanding of much more than comics:...graphic design...language...perception, semiotics...and more."

McCloud, Scott is the author of Understanding Comics, published 1994 under ISBN 97800609...76255 and 006097625X. Five hundred forty one Understanding Comics textbooks are available for sale on ValoreBooks.com, one hundred seventeen used from the cheapest price of $9.51, or buy new starting at $16.45. [read more]
Rent $9.99
Used $9.51
New $16.45
Customer Product Reviews
1 REVIEW
5 star(0)
4 star(0)
3 star(1)
2 star(0)
1 star(0)
Average Customer Review
Very informative comic about the history of comic books and creating them. It describes what it takes to create a comic book and how much work it takes to combined pictures with writing.

The pictures to show you what the author is talking about.

read more
Product Details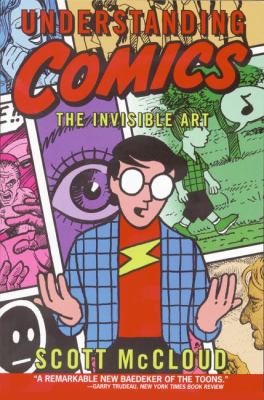 ISBN-13: 9780060976255
ISBN: 006097625X
Pub Date:
1994
Publisher:
Harpercollins
ValoreBooks.com is your source for cheap Understanding Comics rentals, or new and used copies for sale.