Time Management
Author:
ISBN-13:
9780071493383
ISBN:
0071493387
Pub Date:
2007
Publisher:
McGraw-Hill Companies, The
Summary:
[Mancini: Time Management: 24 Techniques To Make Each Minute Count At Work; ISBN-13: 978-0-07-149338-3; ISBN-10/MHID: 0-07-149338-3; Trim Size: 6 x 9][CATEGORY: MANAGEMENT][HEADLINE: ]MAXIMIZE YOUR PRODUCTIVITY, ENHANCE YOUR MANAGERIAL SKILLS, AND SHARPEN YOUR EDGE IN BUSINESS![COPY: ]They say time is money. And thanks toTime Management, you can make every moment more valuable, through 24 easily mastered techniques t
...
hat will instantly increase your workplace efficiency. Through clear, concise directions - all informed by real world examples - you'll learn how to match the right timesaving method to each situation and avoid ineffective strategies that can actually cost time rather than save it.Deliver more value to your organization while enhancing your career by:[BOX WITH BULLET POINTS: ]Learning time-saving strategies you can implement right now o Anticipating time-wasting situations o Identifying causes of procrastination o Turning frustration into confidence o Training others to perform efficiently o Delegating tasks effectively o Heightening your effectiveness as a manager o Increasing your visibility within the organization[AUTHOR'S BIO]Marc Manciniis a professor at West Los Angeles College, and his namesake business - Marc Mancini Seminars and Consulting - is the travel sector's largest private provider of industry time management training. He has made many television appearances as a time management commentator, including those on CNN and Good Morning America.

Mancini, Marc is the author of Time Management, published 2007 under ISBN 9780071493383 and 0071493387. One hundred four Time Management textbooks are available for sale on ValoreBooks.com, fifty one used from the cheapest price of $4.51, or buy new starting at $6.14.
[read more]
Product Details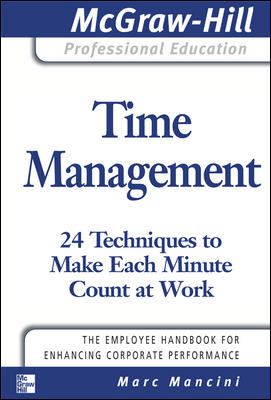 ISBN-13:
9780071493383
ISBN:
0071493387
Pub Date:
2007
Publisher:
McGraw-Hill Companies, The
www.ValoreBooks.com is a student's number one resource for cheap Time Management rentals, or new and used condition books ready for you to buy.