Three Moves Ahead
Author:
ISBN-13:
9780470178218
ISBN:
0470178213
Publisher:
Wiley & Sons, Incorporated, John
Summary:
People are Talking About Three Moves Ahead"Three moves ahead? I'd say four, at least. An utterly fresh guide to winning in today's business environment." -Jim Spanfeller, CEO, Forbes.com"Every executive struggles with the pressure to think fast and think ahead. Bob's fascinating book shows how to apply chess principles to do just that. It's impossible to make the right move every time, but these strategies will help
...
you succeed in the face of the unpredictable." -Bruce Chizen, former CEO, Adobe Systems Incorporated"This amazing book is the first time anyone has clearly translated Grandmaster ideas to real-world situations. The business examples are so good that I'm using them to teach chess!" -Maurice Ashley, International Chess Grandmaster"Rarely does one find a book where every page is filled with both brilliant insight and witty writing. Mandatory reading for every startup." -David S. Rose, founder, New York Angels"I don't play chess but it sure improved my 'game' at the office! The clever, clear examples show how to use dozens of classic strategies in everyday situations. This book can put any executive 'three moves ahead'!" -Sarah Fay, CEO, Carat USA

Rice, Bob is the author of Three Moves Ahead, published under ISBN 9780470178218 and 0470178213. One hundred eleven Three Moves Ahead textbooks are available for sale on ValoreBooks.com, fifty four used from the cheapest price of $0.11, or buy new starting at $15.44.
[read more]
Product Details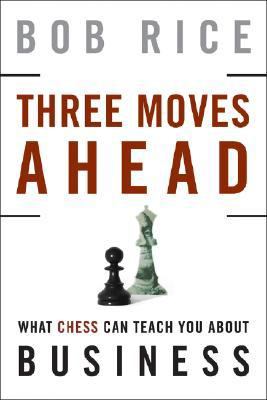 ISBN-13:
9780470178218
ISBN:
0470178213
Publisher:
Wiley & Sons, Incorporated, John
ValoreBooks.com is the best place for cheap Three Moves Ahead rentals, or new and used condition books ready for you to buy.