Thinking Mathematically (5th Edition)
Author:
28 Customer Product Reviews
ISBN-13:
9780321645852
ISBN:
0321645855
Edition:
5
Pub Date:
2010
Publisher:
Prentice Hall
Summary: Prentice Hall published Thinking Mathematically by Robert Blitzer in 2010. Now you have the opportunity to buy cheap Thinking Mathematically copies from our website in this 5th edition release. We also make it possible to sell your Thinking Mathematically book back here as a pre-owned copy to sell to someone else. That's how our website works - providing a service for all American students to make the most of. Get to... grips with math now and enjoy the cheapest prices for Thinking Mathematically used copies. It couldn't be easier to learn how to get your thinking moving along the right lines, thanks to the lessons in this text book.

Blitzer, Robert is the author of Thinking Mathematically (5th Edition), published 2010 under ISBN 9780321645852 and 0321645855. One thousand ninety eight Thinking Mathematically (5th Edition) textbooks are available for sale on ValoreBooks.com, five hundred thirty three used from the cheapest price of $40.36, or buy new starting at $75.99. [read more]
Rent $16.54
Used $40.36
New $75.99
Alternate $41.10
Customer Product Reviews
28 REVIEWS
5 star(10)
4 star(9)
3 star(7)
2 star(1)
1 star(1)
Average Customer Review
Class was called Survey of Mathematics, and is listed as a 3 credit hour class, the concept is to learn basic college level mathematics.

Math, is the primary subject of the book. To me this text was somewhat confusing in its treatment of the subject matter, there were several sections that were covered that were more historical in context than actual useful learning for practical math.

read more

I found that the My Math Lab was the only thing necessary for the course, we didnt use the textbook often. It helped to clarify when I was confused though

College Math 2, it was ok, but it was a bit of a potpourri class

read more

Overall is a very good book, however some of the examples are not explained with much detail and some just give you the answer without telling you how to get there. Compare to other books on the subject I have read the differences are not many, they all cover the basic subjects of math.

The more interesting thing I learned from this book is about the social personality development. There was a lot of stuff that I learned about myself and it helped me understand a little bit better on why I act the way I do. Also it helped me modify things about myself to become a better person for my future children.

read more

1 or 2 more examples of problems. I found it challenging to understand some concepts that were complex and unfortunately I only found about one example of the problem being solved. When I faced my final it was a little disapointing with one of the questions.

Other than more examples...nothing! As I said, the lack of the examples is what made the textbook hard to understand. I liked reading the book though, it was very interesting!

read more

Was very helpful in learning the math concepts it highlights. Was very useful. I really struggled with math before reading this book. The hard cover aspect was also nice for safe transport.

This book was great, there isn't too much that I would change.

read more

Very good . Directions were easy to follow. Easy to understand and follow

Made public speaking easier to do. Understanding other famous public speakers

read more

I had to use this book for my college Math 131 class.

I can't think of anything. This book is great, there are plenty examples that helps you better understand math.

read more

its challenging, it provides students with a lot of different math questions so they work on plus it comes with the solutions to see if you were correct or wrong

math to solve problems and th esteps to work out the problems

read more

Although this book has all of the information necessary to learn the required material, I feel that it needs better organization within each chapter. A single page of the formulas needed in each section and a better seperation of color in the scheme used. The example descriptions of each mathematical problem addressed are very lengthy. A more outlined approach would be better in my opinion.

MAT-140, Survey of Mathematics is the required course that I was enrolled in when I purchased this book. It is a second year, required course for my Associates degree. I took the class online and didn't need to purchase the book to take the course. I bought the book to aid in my studies during the class.

read more

The course was called Contemporary Mathematics and it was designed to cover topics that are applicable to students' everyday lives such as logic, probability and statistics and financial mathematics.

The most useful information I learned using this book was the financial information, such as how to calculate interest for savings accounts, loans, and credit cards.

read more

The explanations for formulas used were over complicated. They would often leave me confused or missing information.

This was the least helpful of all math books I have used and I utilized the teacher as a resource more then the book.

read more

Nothing was unhelpful. This book was my main learning tool throughout this course.

The practice problems for every chapter were helpful to understand the concept of what I was learning. I really liked how the odd questions had to the answers in the back so I was able to check my work and make sure I was learning correctly.

read more
SEE MORE REVIEWS
Product Details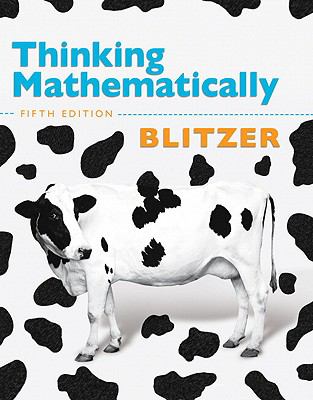 ISBN-13: 9780321645852
ISBN: 0321645855
Edition: 5th
Pub Date:
2010
Publisher:
Prentice Hall
ValoreBooks.com is unbeatable for cheap Thinking Mathematically (5th Edition) rentals, or used and new condition books available to purchase and have shipped quickly.