The Little Seagull Handbook
Author:
12 Customer Product Reviews
ISBN-13:
9780393911510
ISBN:
0393911519
Edition:
Spi
Pub Date:
2011
Publisher:
W. W. Norton & Company
Summary:
Richard Bullock is the author of The Little Seagull Handbook, published 2011 under ISBN 9780393911510 and 0393911519. One hundred eighty four The Little Seagull Handbook textbooks are available for sale on ValoreBooks.com, seventy one used from the cheapest price of $2.00, or buy new starting at $14.99.
Rent

$19.99

Used

$2.00

New

$14.99

Alternate

$7.50
Customer Product Reviews
12 REVIEWS

5 star

(5)

4 star

(2)

3 star

(4)

2 star

(1)

1 star

(0)
This was a small book in which repeated the process from the big Norton book. I didn't touch this book that much and read mainly from the big book.

I did not learn a sigle thing from this book because I depended on the Norton book which was more indepth.

read more

Everything was very useful, we used this in my English class and it helped us out so much

I learned many things in this book, it's very easy to understand and just a great book overall

read more

I think that this book was great, I cannot think of anything it needs to improves on.

It had details needed to help you understand the types of essays. it was very handy for MLA and APA which I had to use.

read more

The process of the story and how it was very easy to read and helped break each part down

how to write each step of a story, paragraph and it refreshed my memory on a few steps and how to write a paragraph and the main steps in a story

read more

I think the book is great the way it is! It could have a better bind but the spiral works just fine!

The detailed information included throughout the book helped me with my writing.

read more

The book could be organized a little more clearly. Topics for types of essays seemed to be all over the place rather than being organized like "persuasive essays", "personal essays", etc.

The instructions themselves were clear and made sense. The examples were also good.

read more

The book was helpful, but the information was nothing special or exclusive - it could all be found online.

The grammar and formatting guides were helpful for a quick check when writing a paper/second-guessing myself

read more

This book was used in English 101. The class had discussion and essay writing from this book.

We had essays required in class and it was an easy read. Enjoyed the book!

read more

This was not very useful as everything in it is available online, and nothing was referenced to it during my course.

It didn't help because we never had to use it during the whole course. Kinda a waste of money.

read more

English composition and grammar and syntax rules. I used this information to write my papers.

It helped me in my writing. I didn't learn very much about grammar and syntax in grade school so when I got to college I was confused. Good thing I found this book!

read more

the primary subject of this book was writing, researching and editing papers and how to correctly do that.

The most interesting thing that i learned from this book was the day i got to put it down because it did not teach me anything.

read more

I didn't particularly find this book useful. I think the way it shows how to make the citation in the text should be demonstrated for more mediums.

Clearer citation descriptions for MLA in particular.

read more
SEE MORE REVIEWS
Product Details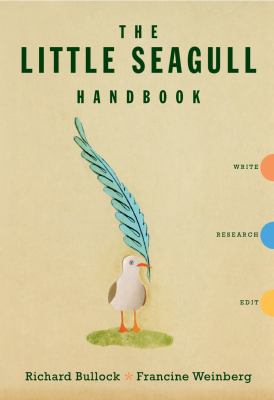 ISBN-13:
9780393911510
ISBN:
0393911519
Edition:
Spith
Pub Date:
2011
Publisher:
W. W. Norton & Company
www.ValoreBooks.com is hard to beat for cheap The Little Seagull Handbook rentals, or new and used copies ready to be shipped fast.