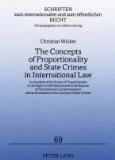 The Concepts of Proportionality and State Crimes in International Law: An Analysis of the Scope of Proportionality in the Right of Self-defence and in ... Internationalen Und Zum Offentlichen Recht)
Author:
ISBN-13:
9780820487373
ISBN:
0820487376
Edition:
1st
Pub Date:
2006
Publisher:
Peter Lang Pub Inc
Summary:
It is generally recognised in both literature and jurisprudence that the notion of proportionality constitutes a key requirement of self-defence and of countermeasures. The determination of the exact content of the proportionality principle is, however, very complex and controversial. This study demonstrates that consequently a State can no longer commit an international crime. Yet it also shows that by applying more
...
serious consequences to the commission of a serious breach of peremptory norms the idea behind the concept does add something valuable to the existing concepts of jus cogens and obligations erga omnes.
[read more]
Product Details
ISBN-13:
9780820487373
ISBN:
0820487376
Edition:
1stth
Pub Date:
2006
Publisher:
Peter Lang Pub Inc