Teaching Children to Read The Teacher Makes the Difference
Author:
ISBN-13:
9780136138068
ISBN:
0136138063
Edition:
5
Publisher:
Prentice Hall
Summary: Why is preparation so critical for reading teachers? Because research tells us that itrs" s the teacher who makes the difference in effective reading instruction. Capable literacy teachers think about their teaching decisions, and they understand and meet the needs of individual students. The new edition of "Teaching Children to Read: The Teacher Makes the Difference" emphasizes the teacherrs" s role in literacy deve...lopment, pointing out the five pillars of effective reading instruction-teacher knowledge, assessment, effective practice, differentiated instruction and family/home connections. Chapters are organized around each of these pillars to present a solid understanding of the teacherrs" s role in every aspect of literacy education. "New to this editionhellip; ." Teacher Knowledge Presents all the background knowledge, research, and foundational information you need to recognize evidence-based instruction Supplies needed information on studentsrs" earliest seeds of literacy, particularly in Chapter 2 "Developing Childrenrs" s Oral Language," a unique chapter in the field Assessment Offers full sections in each chapter that look specifically at the ways evaluation and assessment drive instruction Guides you to the assessment tools most appropriate to gauge studentsrs" literacy development and direct instruction accordingly Effective Practice Provides practical strategies that explain how to sequence instruction to develop critical literacy skills and strategies Illustrates exemplary teaching practice through" Video Classrooms, "textfeatures that guide you through clipson the accompanying CD ROM and on the Teacher Prep website Differentiated instruction Points out ways to differentiate instruction to meet the individual needs of students, adapting your instruction to help every student succeed in literacy Features" Getting to Know English Learners" provide research-based applications to help you meet the needs of students whose first language is not English Family/Home Connections Explains how teachers can connect with parents to keep them informed about their childrenrs" s learning and provides suggestions to guide parents in helping their children become successful readers and writers.

Reutzel, D. Ray is the author of Teaching Children to Read The Teacher Makes the Difference, published under ISBN 9780136138068 and 0136138063. Thirty seven Teaching Children to Read The Teacher Makes the Difference textbooks are available for sale on ValoreBooks.com, thirty two used from the cheapest price of $0.01, or buy new starting at $12.92. [read more]
Product Details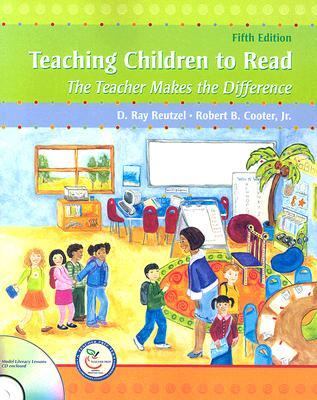 ISBN-13: 9780136138068
ISBN: 0136138063
Edition: 5th
Publisher:
Prentice Hall
Valore Books is unbeatable for cheap Teaching Children to Read The Teacher Makes the Difference rentals, or used and new condition books that can be mailed to you in no time.