Successful Writer's Handbook
Author:
1 Customer Product Review
ISBN-13:
9780205028061
ISBN:
0205028063
Edition:
2
Pub Date:
2011
Publisher:
Longman Publishing Group
Summary:
McWhorter, Kathleen T. is the author of Successful Writer's Handbook, published 2011 under ISBN 9780205028061 and 0205028063. Thirty four Successful Writer's Handbook textbooks are available for sale on ValoreBooks.com, twelve used from the cheapest price of $1.50, or buy new starting at $69.98.
Rent

$16.99

Used

$1.50

New

$69.98

Alternate

$3.52
Customer Product Reviews
1 REVIEW

5 star

(0)

4 star

(1)

3 star

(0)

2 star

(0)

1 star

(0)
In all sincerity I cannot say that there was anything that was terribly interesting about this textbook. The truth is that though it is not interesting it is absolutely necessary. This English textbook played a huge part in my journey of being able to write in a way that successfully displays my thoughts. So, even though I would like to say that this book is the most interesting piece of literature ever printed, it is not. It is, however, largely informative and helpful in becoming a successful writer.

Oh, I suppose that I answered this question partly in my previous answer. The class for which I used this textbook was about three years ago. The reason that I had not sold it before now was because I kept finding that I needed it as a reference for other classes. After having the book for the past 3 years I have learned much, and recently knew it was time to allow someone else to prosper from its pages. The class it was used for did not offer much material. It was all centered around exercise in writing. Anything that I did not already know I learned from this book or, in rare circumstances, from additional resources. In most instances all that I needed to know was found within this textbook.

read more
Product Details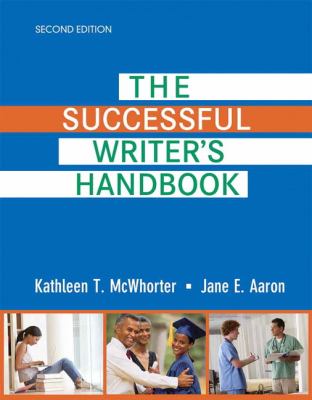 ISBN-13:
9780205028061
ISBN:
0205028063
Edition:
2nd
Pub Date:
2011
Publisher:
Longman Publishing Group
Valore Books is the smartest bookstore for cheap Successful Writer's Handbook rentals, or used and new copies available to buy.