Society: The Basics (12th Edition)
Author:
18 Customer Product Reviews
ISBN-13:
9780205898916
ISBN:
0205898912
Edition:
12
Pub Date:
2012
Publisher:
Pearson
Summary:
Sociology students across the country are intrigued and inspired by this exceptional textbook that helps them to comprehend the subject and how it relates to their everyday lives. The content is written and presented in a lively and engaging style that is thought provoking and raises many issues to be discussed. It grounds all this detail with a strong theoretical framework which is complemented by an international o
...
utlook. It is a profound introduction to sociology. You can order cheap sociology textbooks to arrive whenever you need them from our extensive list.

John J. Macionis is the author of Society: The Basics (12th Edition), published 2012 under ISBN 9780205898916 and 0205898912. One hundred sixty eight Society: The Basics (12th Edition) textbooks are available for sale on ValoreBooks.com, forty five used from the cheapest price of $8.67, or buy new starting at $25.00.
[read more]
Rent

$19.94

Used

$8.67

New

$25.00

Alternate

$10.19
Customer Product Reviews
18 REVIEWS

5 star

(8)

4 star

(6)

3 star

(4)

2 star

(0)

1 star

(0)
I learned a lot from this book. This was my first time taking a sociology class so this book was very helpful in helping me learn about the subject.

This book compares because there was a lot more definitions and things that I need to study. It also compares because it was the first sociology class I've taken.

read more

This book helped understand sociology course, but the course was hard in itself. Very hard to search.

I would make it easier to look things up in this book. Things are scattered.

read more

Sociology. Book was easy to use. I found it very informative and interesting.

I have not read any other books on this subject. I took sociology online.

read more

About different cultures and how their society works, it was interesting to me because I travel on mission trips and love experiencing new cultures.

The pop culture references because not everyone knows the pop culture references and it can become outdated very quickly

read more

Everything about this book was helpful and informational. I learned mean aspects of culture, eras, the we think and why we are the way we are as a society.

Absolutely nothing would I change about this book because I really enjoyed reading it and learned so much from it that was interesting and it was needed to know information.

read more

It was kind of hard to look up certain terms in the back of the book. I had to search a lot to find certain concepts when I was working on a paper or project.

The primary subject was the basic principles of sociology. This book covered multiple principles that are in the field of sociology that I feel laid a good foundation as to what sociology was all about.

read more

The class that I used the book for is sociology. I used this book to help me take notes and to study for tests and quizzes.

If I could change one thing about this book is that it could be more clear with the examples. In the book they don't go into depth with the examples and that could be helpful for me to know a word better.

read more

A lot about society and the way we live as people. I also learned a lot about other cultures and neat facts about them as well.

Society- how we interact as people. Very well done!

read more

this book is preface the way it is. I feel that this book will help to understand what's going on around you.

sociology. this book covered everything we went talk and been tested on.

read more

Nothing, this book really opened my perspective on society. It touched every aspect of human performance in life.

There was no part in this book that wasn't helpful. This book provided me with all the subject matter I needed to know for my college course.

read more

The book was overall very helpful; It made the subject matter very understandable, and it was easy to find a topic for a research paper if that was needed.

I would change the size of the book. It was very hard to keep it in good condition because the pages were very thin, long, and wide.

read more

I learned many interesting human character traits and characteristics that we all hold when interacting with others.

The whole book was pretty helpful.... Deeper explanations would have helped.

read more
SEE MORE REVIEWS
Product Details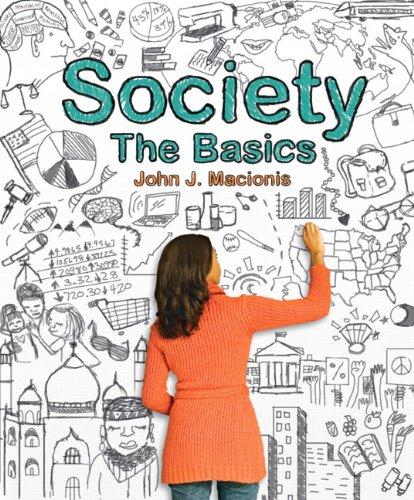 ISBN-13:
9780205898916
ISBN:
0205898912
Edition:
12th
Pub Date:
2012
Publisher:
Pearson
Valore Books is your source for cheap Society: The Basics (12th Edition) rentals, or used and new copies that can get to you quickly.