Social Psychology of Politics
Author:
ISBN-13:
9780306467233
ISBN:
0306467232
Publisher:
Springer
Summary:
Early studies of political behavior examined the sociological, attitudinal, and rational determinants of political behavior. However, none of these approaches provided a descriptive model of how people process political information and make political decisions under naturalistic conditions that involve limited cognitive capacity and motivation. Fortunately, contemporary approaches within the field of political psycho
...
logy have begun to address these concerns. Inspired by recent advances in the area of social psychology, researchers are rapidly developing more realistic and detailed models of the psychological process that determines political judgements and behavior. Early attempts to merely predict political behavior have been replaced by an attempt to describe the actual process whereby individuals gather, interpret, exchange, and combine information to arrive at a political judgement or decision. This volume provides comprehensive coverage of this pioneering era of research in political psychology.

Ottati, Victor C. is the author of Social Psychology of Politics, published under ISBN 9780306467233 and 0306467232. Seventy two Social Psychology of Politics textbooks are available for sale on ValoreBooks.com, four used from the cheapest price of $52.77, or buy new starting at $120.47.
[read more]
Product Details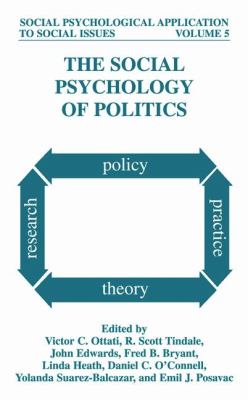 ISBN-13:
9780306467233
ISBN:
0306467232
Publisher:
Springer
Valore Books is the top book store for cheap Social Psychology of Politics rentals, or new and used condition books for purchase.