Social Foraging Theory
Author:
ISBN-13:
9780691048772
ISBN:
0691048770
Publisher:
Princeton University Press
Summary:
Although there is extensive literature in the field of behavioral ecology that attempts to explain foraging of individuals, social foraging--the ways in which animals search and compete for food in groups--has been relatively neglected. This book redresses that situation by providing both a synthesis of the existing literature and a new theory of social foraging. Giraldeau and Caraco develop models informed by game t
...
heory that offer a new framework for analysis.Social Foraging Theorycontains the most comprehensive theoretical approach to its subject, coupled with quantitative methods that will underpin future work in the field. The new models and approaches that are outlined here will encourage new research directions and applications. To date, the analysis of social foraging has lacked unifying themes, clear recognition of the problems inherent in the study of social foraging, and consistent interaction between theory and experiments. This book identifies social foraging as an economic interaction between the actions of individuals and those of other foragers. This interdependence raises complex questions about the size of foraging groups, the diversity of resources used, and the propensity of group members to exploit each other or forage cooperatively. The models developed in the book will allow researchers to test their own approaches and predictions. Many years in development, Social Foraging Theory will interest researchers and graduate students in such areas as behavioral ecology, population ecology, evolutionary biology, and wildlife management.

Giraldeau, Luc-Alain is the author of Social Foraging Theory, published under ISBN 9780691048772 and 0691048770. Two hundred three Social Foraging Theory textbooks are available for sale on ValoreBooks.com, fifty three used from the cheapest price of $46.73, or buy new starting at $87.01.
[read more]
Product Details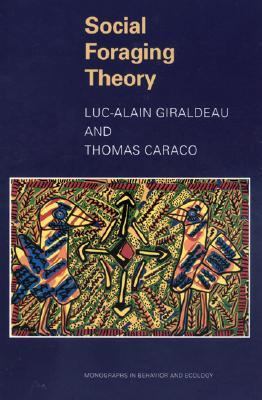 ISBN-13:
9780691048772
ISBN:
0691048770
Publisher:
Princeton University Press
Valore Books is unbeatable for cheap Social Foraging Theory rentals, or used and new condition books available to purchase and have shipped quickly.