Simpsons Comics Spectacular
Author:
ISBN-13:
9780060951481
ISBN:
0060951486
Edition:
1
Pub Date:
1995
Publisher:
Harpercollins
Summary:
Right this way, ladies and gentlemen, and welcome to another tasty all-you-can-eat collection of Simpsonoid comical funnies, written, penciled, inked, and simmered just for you by your favorite demented cartoon chefs at Bongo Comics. We've got a special meaty comic book stew du jour a-bubblin' away on the stove for you this time, full of rich Barty goodness, thick Homerish chunks, and sinewy Lisa-esque fibers. And, b
...
y popular request, we've added a scoop or two of spicy Maggie-renos, along with our usual heaping dollops of authentic Snowball II furballs, and, to stretch the meal even further, a jumbo box full of Santa's Little Helper helper. A Milhouse salad, of course, comes with every meal at no extra charge. Krustyburgers and Sideshow Mel fries also are available, but the extra-bitter Sideshow Bob soup is off the menu-at least temporarily. And be sure to save room for dessert! You haven't lived 'til you've tasted a big old gooey bowl of Flanders-style flan, or munched on Ms. Krabappel's famous crabapples, or chewed on a platter full of hot itchy cakes drenched in creamy Scratchy sauce. And if you clean your plate you get a special surprise! (The surprise being the surprised look on our faces that you actually cleaned your plate!)

Groening, Matt is the author of Simpsons Comics Spectacular, published 1995 under ISBN 9780060951481 and 0060951486. Twelve Simpsons Comics Spectacular textbooks are available for sale on ValoreBooks.com, ten used from the cheapest price of $0.01, or buy new starting at $11.61.
[read more]
Product Details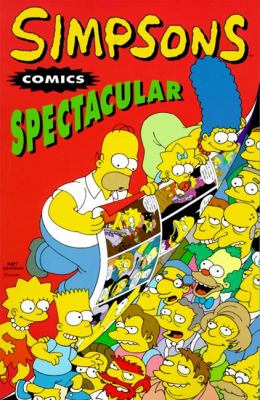 ISBN-13:
9780060951481
ISBN:
0060951486
Edition:
1st
Pub Date:
1995
Publisher:
Harpercollins
Valore Books is your source for cheap Simpsons Comics Spectacular rentals, or new and used copies ready to be shipped fast.