Shake Sdk
Author:
ISBN-13:
9780321450951
ISBN:
0321450957
Edition:
1
Pub Date:
2006
Publisher:
Peachpit Press
Summary:
Apple's award-winning Shake 4 was designed from the ground up as a scriptable visual effects tool. As such, it has been central to the production of every film that won the Academy Award for visual effects since its debut in 1998. One of Shake's most powerful attributes is that it allows visual effects studios to produce custom pipelines using the Shake SDK (Software Developers Kit).In 2006, Apple Computers Angus Tag
...
gart toured a limited number of cities to give a three-day seminar on how to use the Shake SDK effectively. In Sydney, Australia, this lecture series was recorded and edited into a high-quality DVD training course.Now available for the first time as a self-paced guide, this is the only Apple-certified reference course that shows you, with direct-screen recordings, exactly how to build custom Shake pipeline tools. Using focused lessons, Taggart walks you step by step through the entire Shake SDK, including detailed explanations of the uses of Xcode and invaluable tips on how to write your own advanced Shake plugins.This 3-disc set was produced by fxphd.com, a leading online training organization for visual effects professionals.- A must for studio production technology developers or pipeline specialists- Written and presented by lead developer Angus Taggart, who oversees the Apple Shake SDK program- Lessons take you step by step through Xcode, the Shake SDK, and Shake 4's advanced features- High-quality graphics and direct-screen recordings help you master techniques fast- Approximately 10 hours of advanced, self-paced training- Includes 120-page Apple Pro Training Series: Shake 4 Quick Reference GuideAbout the Author: Angus Taggart has overseen the Shake SDK program since 2002 when he joined Apple Computer. During this time, the Shake SDK has evolved with new APIs, improved documentation, and a dedicated short-course for developers. Before joining Apple, Angus worked at Arete Image Software as a developer of the award-winning Digital NatureTools software, which was used to produce photorealistic 3D ocean, atmosphere, and fire simulations for numerous feature films, including Harry Potter and the Sorcerer's Stone, Cast Away, Pearl Harbor, Titanic, and Water World. Previous to this, Angus worked in the defense industry implementing signal processing algorithms and fluid flow simulators on Thinking Machines and Cray supercomputers.This DVD training course was recorded live, edited, and produced by fxphd.com, a leading training organization for visual effects professionals worldwide and the online training arm of fxguide.com.

Taggart, Angus is the author of Shake Sdk, published 2006 under ISBN 9780321450951 and 0321450957. Two Shake Sdk textbooks are available for sale on ValoreBooks.com, one used from the cheapest price of $49.74, or buy new starting at $1,276.44.
[read more]
Used

$49.74

New

$1,276.44
Product Details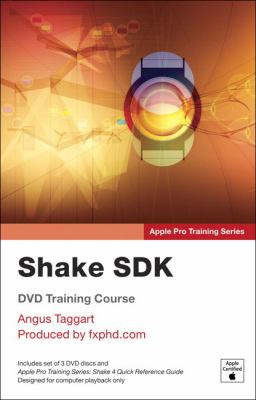 ISBN-13:
9780321450951
ISBN:
0321450957
Edition:
1st
Pub Date:
2006
Publisher:
Peachpit Press
ValoreBooks.com is hard to beat for cheap Shake Sdk rentals, or used and new copies that can get to you quickly.