Retinal Degenerative Diseases
Author:
ISBN-13:
9780387284644
ISBN:
0387284648
Pub Date:
2006
Publisher:
Springer
Summary: Retinal Degenerations is the result of the International Symposium on Retinal degeneration which has become perhaps the most important research meeting in the field. THe topics in this volume explore the etiology, cellular mechanisms, epidemiology, genetics, models and potential therapeutic measures for the blinding diseases of retinitis pigmentosa and age-related macular degeneration.

Hollyfield, Joe G. is ...the author of Retinal Degenerative Diseases, published 2006 under ISBN 9780387284644 and 0387284648. Two hundred twenty five Retinal Degenerative Diseases textbooks are available for sale on ValoreBooks.com, seven used from the cheapest price of $9.99, or buy new starting at $49.61. [read more]
Product Details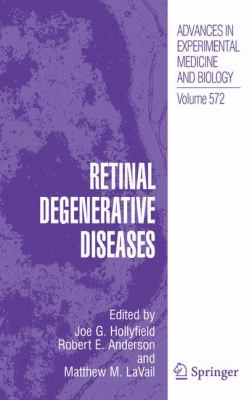 ISBN-13: 9780387284644
ISBN: 0387284648
Pub Date:
2006
Publisher:
Springer
Valore Books is the #1 site for cheap Retinal Degenerative Diseases rentals, or used and new copies available to buy.