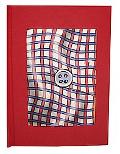 Raggedy Ann and Andy and the Camel With the Wrinkled Knees A Classic Collectible Pop-Up
Author:
ISBN-13:
9780689863707
ISBN:
0689863705
Publisher:
Simon & Schuster Children's Publishing
Summary:
Raggedy fans of all ages will delight in this three-dimensional interpretation of Johnny Gruelle's classic story. Dazzling paper engineering brings Raggedy Ann, Raggedy Andy, and friends to life in this interactive edition of The Camel with the Wrinkled Knees. From beginning to end, this beloved tale is told with pop-up scenes, giving the timeless adventure story a new twist that will enchant for years to come.
Product Details
ISBN-13:
9780689863707
ISBN:
0689863705
Publisher:
Simon & Schuster Children's Publishing