Qualitative Reading Inventory-4
Author:
1 Customer Product Review
ISBN-13:
9780205443277
ISBN:
0205443273
Edition:
4
Pub Date:
2005
Publisher:
Addison-Wesley
Summary:
Praised by students and teachers alike as the most reliable and easy-to-use informal assessment instrument on the market!The Qualitative Reading Inventory-4 continues to emphasize authentic assessment of children's reading abilities, from the most emergent readers to advanced readers. With expanded coverage of critical areas of assessment, the QRI-4 is a valid research-based measure of reading improvement. Highly res
...
pected scholars and researchers Lauren Leslie and JoAnne Caldwell have incorporated the latest reading research, in line with No Child Left Behind Reading First components.This comprehensive inventory is widely used for its focus on assessment of specific questions regarding word identification, fluency, and comprehension. In addition, it provides suggestions for intervention instruction, procedures for assessment of strategic reading, and inclusion of results in classroom portfolios.The QRI-4 Continues to Garner Praise:"The passages have been carefully designed to reflect the material in basal readers and expository texts used in schools. Therefore, the information derived from the QRI will be immediately useful for classroom teachers and reading specialists. There is a valid and reliable connection between the results obtained from the QRI and individualized instruction." Peggy Snowden, SUNY Plattsburgh"Strengths of the [QRI] include its strong research base, constructed as it were by reading scientists, its history of revision to reflect the growing knowledge base in reading, and its versatility in investigating reading behavior; these aspects distinguish the QRI from its IRI competitors." Bruce Murray, Auburn UniversityWhat's New in the QRI-4? NEW! Numerous passages have been added for grade 4 through upper middle school levels, representing what students read in content classes. The popular Think-Alouds now include sixth grade and upper middle school levels and include a modeling passage for the examiner to model think-alouds for every grade. Rate is now measurable in two ways--words per minute and corrected words per minute. New video demonstrates the administration and scoring of the QRI-4 with students of varying levels of reading ability. New CD-ROM with every copy of the book includes additional video footage! Don't forget Intervention Strategies to Follow Informal Reading Inventory Assessment (ISBN: 0-205-40558-4)! It's the perfect companion for the QRI-4, providing strategies to connect the results of the informal reading inventory with the instruction sessions that follow. Learn more at www.abprofessionaled.com .

Leslie, Lauren is the author of Qualitative Reading Inventory-4, published 2005 under ISBN 9780205443277 and 0205443273. Six Qualitative Reading Inventory-4 textbooks are available for sale on ValoreBooks.com, five used from the cheapest price of $21.21, or buy new starting at $65.37.
[read more]
Customer Product Reviews
1 REVIEW

5 star

(0)

4 star

(0)

3 star

(1)

2 star

(0)

1 star

(0)
The key points in assessing reading skills, it was much more in-depth than I expected.

More narrative examples to guide learning so that readers will understand how to apply the method

read more
Product Details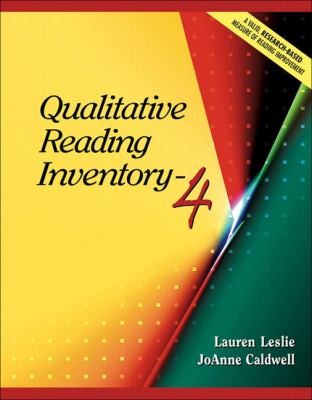 ISBN-13:
9780205443277
ISBN:
0205443273
Edition:
4th
Pub Date:
2005
Publisher:
Addison-Wesley
Valore Books has some of the lowest prices for cheap Qualitative Reading Inventory-4 rentals, or used and new condition books available to purchase and have shipped quickly.