Psychology
Author:
19 Customer Product Reviews
ISBN-13:
9780205832576
ISBN:
0205832571
Edition:
United Sta
Pub Date:
2011
Publisher:
Pearson Education (US)
Summary:
J Noland White and Saundra Ciccarelli wrote Psychology for Pearson Education (US) in 2011. You can now buy Psychology online by getting a pre-owned copy so you don't spend more than you have to. This is the United States edition and therefore it is ideal for US students studying psychology. Rent cheap Psychology textbook copies from our vast marketplace now and see how much you could save by doing so. With discounted
...
prices available, it is easy to invest in your copy of this classic book now. Check the latest prices and sell your Psychology book back to us at the end of your course.

Ciccarelli, Saundra is the author of Psychology, published 2011 under ISBN 9780205832576 and 0205832571. Two hundred fifty Psychology textbooks are available for sale on ValoreBooks.com, seventy two used from the cheapest price of $2.44, or buy new starting at $75.13.
[read more]
Rent

$22.92

Used

$2.44

New

$75.13

Alternate

$5.87
Customer Product Reviews
19 REVIEWS

5 star

(12)

4 star

(5)

3 star

(1)

2 star

(1)

1 star

(0)
It was introduction to substance abuse. It Taught about the basics of addiction The class was Introduction to Substance abuse. It taught about treatment of those with addiction issues

This book taught a lot about drugs and where they originate from and how they work with the human body. Its very important to know those things when dealing with addiction

read more

I found alot useful. I loved all the facts & pictures & helpful word meaning on the side of the pages. I enjoyed the My Psych Lab resources & the stufy tips.

I found this book to be interesting and helpful all together. I never thought anything shoukd be done differently.

read more

The most interesting thing I learned in this book was I never needed to read it in the first place. It's like me telling strangers I know everything about them and they know nothing.

This book would be better if I would have written it and made the money off it myself.

read more

I learned a lot about the different sections of the brain and how one can function without certain senses.

I remember learning the different levels of the subconscious and how one goes about their thought processes in certain situations because it was relatable to how I make my own decisions.

read more

No complaints with this text book. It was laid out well and organized for most students to grasp the writing process and tips for improving for even the experienced writer.

I learned how to relate everyday feelings & emotions to the real world.

read more

Nothing at all I enjoyed this book. I passed this class with 100. There was information in this book I couldnt find other places.

It was a great deal of help. I can honestly say this book was put together in a great learning manner. I give it a thumbs up.

read more

Psychology is my major. I really enjoyed this book.

The breakdown and explanations where wonderful. It gave me much to think about.

read more

I wouldn't change anything . It's a good text it just needs to be updated to the times of today. Taking world events and putting it under psychology's microscope.

It was about the fundamentals of psychology theories and theorist the brain and it functions. It's a great book for beginners.

read more

There was a lot of material all clumped together on one page that made it a little hard to read at one time. It would have been nicer if the material was more broken up by the charts and tables to not make all of the words seem overwhelming.

This book has a lot of good material in it that really helped me in class. The vocabulary was easy to find on the side of the page, and the charts and tables put a lot of material into good visual representations.

read more

Able to connect the information with classroom information very smoothly. I like the way info is presented.

Many different psychologist, theories and more about the human mind.

read more

This textbook helped me better understand the course material because it is very detailed and specific. I used this book for every single paper and assignment I ever completed for this class. I love how well categorized it is!

The most interesting thing I learned from this book was how to use Excel. As a college student, I never had to use Excel, however, at my job, Excel was one of the main programs we used. So this book worked well as a teaching guide and a review of what I had already known.

read more

Learned how to deal with stress in college as well as my perrsonal life.

Brief contents on sexuality and gender and psychological therapy.

read more
SEE MORE REVIEWS
Product Details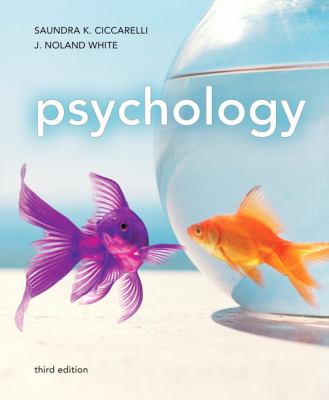 ISBN-13:
9780205832576
ISBN:
0205832571
Edition:
United Stath
Pub Date:
2011
Publisher:
Pearson Education (US)
www.ValoreBooks.com is the smartest bookstore for cheap Psychology rentals, or new and used copies ready to be shipped fast.