Psychology
Author:
8 Customer Product Reviews
ISBN-13:
9781429215978
ISBN:
1429215976
Edition:
Ninth Edit
Pub Date:
2009
Publisher:
Worth Publishers
Summary:
David G. Myers is the author of Psychology, published 2009 under ISBN 9781429215978 and 1429215976. One hundred thirty nine Psychology textbooks are available for sale on ValoreBooks.com, twenty nine used from the cheapest price of $9.26, or buy new starting at $54.75.
Rent

$15.67

Used

$9.26

New

$54.75

Alternate

$8.33
Customer Product Reviews
8 REVIEWS

5 star

(5)

4 star

(2)

3 star

(1)

2 star

(0)

1 star

(0)
Basic psychological association of them with thevhuman mind

How the mind works..what I nneded to know to move on to the next level

read more

basic psychological concepts that enhanced what was being taught in class, good enough for the basic core class

nothing really it served its purpose, got me by the class which i got an a in

read more

it has very valuable information and it wasn't hard to understand.

it gave you vocabulary words with the definitions which we used a lot in class.

read more

This textbook offers a very clear distinction between the different psychological theories and their applications.

I don't know that I would change anything about the text. It was very applicable towards the intro to psych class that I used it for. Great learning tool.

read more

This book did an excellent job of applying the lesson to real life scenarios.

I thought that this book was the most clear and concise that I have studied on the topic

read more

The author attempts to make it interesting, so I will at least give that much. Otherwise this is a pain to read. He could rework his explanations so that they're more vivid to readers.

Explaining psychological functions, reactions, responses, and conditions; both in body and society. It did the job, basically. Has some nice excerpts from real-life experiences.

read more

The most interesting thing i learned in this class was the hypnotized state. it explained how someone could be hypnotized, and why some people whould want to be hypnotized.

The book is needed to pass this class, a lot of notes are taken, but the book makes for a better understanding.

read more

I felt like this book included some information that was either irrelevant or not important.

My intro to psychology class required for me to use this book.

read more
SEE MORE REVIEWS
Product Details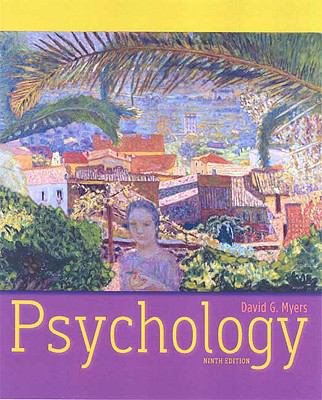 ISBN-13:
9781429215978
ISBN:
1429215976
Edition:
Ninth Editth
Pub Date:
2009
Publisher:
Worth Publishers
www.ValoreBooks.com is your source for cheap Psychology rentals, or used and new copies available to buy.