Problems in Contract Law Cases and Materials
Author:
ISBN-13:
9780735527140
ISBN:
0735527148
Edition:
5
Pub Date:
2003
Publisher:
Wolters Kluwer Law & Business
Summary: Problems in Contract Law: Cases and Materials, Fifth Edition, upholds the high standards of quality and scholarship that have earned the casebook such a loyal following. By offering a highly intelligent, contemporary treatment of Contract Law while including various perspectives and contractual settings, The book leads students to a full understanding of the subject. the presentation is carefully crafted to be both e...nlightening and appealing: the authors selected the best of both modern and classic cases for inclusion coverage is comprehensive, but not overwhelming. a broad range of engaging problems involve students in legal analysis, counseling, drafting, negotiating, and advocating, and familiarize them with the actual practice of Contract Law. the book opens with contract formation and proceeds logically through the contract process from beginning to end. comments and notes discuss various schools of contract scholarship, including feminist and multicultural perspectives. a superior Teacher's Manual, refined through years of use, offers sample syllabi for courses with different credit hours, teaching pointes keyed to specific pages of the book, analysis of all problems, and questions keyed to case summaries a useful website where the authors post recent developments the Fifth Edition incorporates the following material: information on electronic contracting, including cases such as Hill v. Gateway 2000 expanded coverage of consumer problems, unconscionability, and contracts of adhesion, including mandatory arbitration sharpened treatment of the bases of promissory liability And The agreement process coverage of the Convention on the International Sale of Goods (CISG) integration of UCC remedy material into chapters on common law remedies and UCC warranty material into the chapter on implied terms

Knapp, Charles L. is the author of Problems in Contract Law Cases and Materials, published 2003 under ISBN 9780735527140 and 0735527148. Thirty Problems in Contract Law Cases and Materials textbooks are available for sale on ValoreBooks.com, twenty nine used from the cheapest price of $0.49, or buy new starting at $43.00. [read more]
Product Details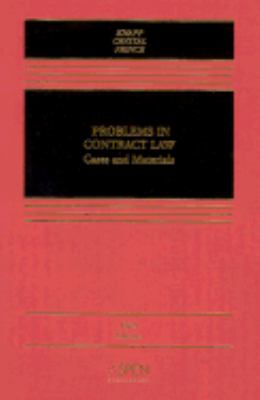 ISBN-13: 9780735527140
ISBN: 0735527148
Edition: 5th
Pub Date:
2003
Publisher:
Wolters Kluwer Law & Business
ValoreBooks.com is the smartest bookstore for cheap Problems in Contract Law Cases and Materials rentals, or used and new copies that can get to you quickly.