Practical Guide To The Care Of The Medical Patient
Author:
ISBN-13:
9780323040099
ISBN:
0323040098
Pub Date:
0013
Publisher:
Elsevier - Health Sciences Division
Summary: The 6th Edition of this practical, pocket-sized reference continues to zero right in on the information busy readers needdifferential diagnoses, clinical findings, lab values, and treatment guidelines, and makes them easy to access it quickly. It covers over 170 of the most essential medical topics, as well as over 220 of the most commonly prescribed medications and over 140 of the most frequently performed laborator...y tests. Includes STUDENT CONSULT Access. The smart way to study! Elsevier titles with STUDENT CONSULT will help you master difficult concepts and study more efficiently in print and online! Perform rapid searches. Integrate bonus content from other disciplines. Download text to your handheld device. And a lot more. Each STUDENT CONSULT title comes with full text online, a unique image library, case studies, USMLE style questions, and online note-taking to enhance your learning experience. jLikProvides a dedicated chapter on differential diagnosis, covering over 125 essential topics Features numerous tables and algorithms for easy access to information Includes tear-out cards for cardiac codes and cardiac drugs jLikOffers the very latest clinical, therapeutic, laboratory medicine, and diagnostic imaging information. jLikPresents 78 new Differential Diagnosis tables203 in alllisting diagnostic possibilities from most to least common, where appropriate. Includes an extensive new section on diagnostic imaging, with advice on which tests to order when, the proper sequence of tests, and interpreting the results. Lists the causes of laboratory test abnormalities from most to least common. Uses a new, more reader-friendly, two-color design, and many new full-color illustrations throughout. Now includes STUDENT CONSULT access! www.studentconsult.com is an innovative website that allows you to build a personalized, fully integrated, online library, where youll find The entire contents of every STUDENT CONSULT title you purchase. Integration links to bonus content in other STUDENT CONSULT titles. Powerful search capabilities- View all excerpts relevant to keyword or subject searches (up to 300 words per hit) from every book in the series. Image library POCKETConsult- Download portions of your personal library onto your handheld. Student resources- Sharpen your skills, stay informed, and have fun! More! With 12 additional contributing experts.

Ferri, Fred is the author of Practical Guide To The Care Of The Medical Patient, published 0013 under ISBN 9780323040099 and 0323040098. Forty three Practical Guide To The Care Of The Medical Patient textbooks are available for sale on ValoreBooks.com, sixteen used from the cheapest price of $16.66, or buy new starting at $29.40. [read more]
Product Details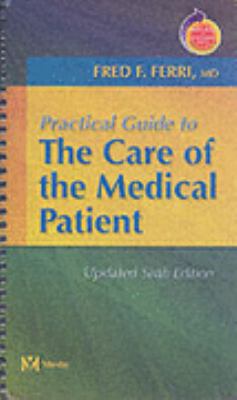 ISBN-13: 9780323040099
ISBN: 0323040098
Pub Date:
0013
Publisher:
Elsevier - Health Sciences Division
ValoreBooks.com is the smartest bookstore for cheap Practical Guide To The Care Of The Medical Patient rentals, or used and new copies that can get to you quickly.