Portable Diagnostic Tests
Author:
ISBN-13:
9781582556758
ISBN:
158255675X
Pub Date:
2007
Publisher:
Lippincott Williams & Wilkins
Summary: Portable Diagnostic Testsis a compact powerhouse of clinical information on specimen collection and diagnostic test interpretation. Our nurse-experts have sorted through the mass of clinical information and focused in on what nurses need most in daily practice. This need-to-know information is presented in an easy-to-use, concise format for time-starved nurses, with bullets, lists, and hundreds of illustrations, char...ts, diagrams, and photographs. The first section gives step-by-step instructions on current specimen collection methodsinformation usually found only in procedure manuals. The second section clearly explains hundreds of diagnostic tests, including preparation, normal values, abnormal values, easy-to-identify crisis values, and nursing considerations.

Karpoff, Sid is the author of Portable Diagnostic Tests, published 2007 under ISBN 9781582556758 and 158255675X. One hundred forty four Portable Diagnostic Tests textbooks are available for sale on ValoreBooks.com, nineteen used from the cheapest price of $2.50, or buy new starting at $8.51. [read more]
Product Details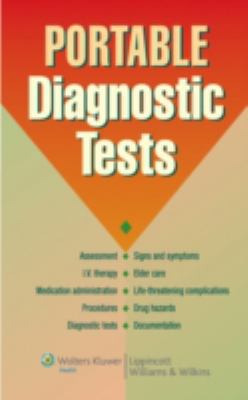 ISBN-13: 9781582556758
ISBN: 158255675X
Pub Date:
2007
Publisher:
Lippincott Williams & Wilkins
www.ValoreBooks.com is unbeatable for cheap Portable Diagnostic Tests rentals, or new and used condition books ready for you to buy.