Plant Biology
Author:
ISBN-13:
9780130303714
ISBN:
0130303712
Edition:
1
Pub Date:
2002
Publisher:
Prentice Hall
Summary:
I. INTRODUCTION. 1. Introduction to Plant Biology. 2. Plants and People. 3. Naming and Organizing Plants. II. MOLECULES, CELLS, AND MICROBES. 4. The Molecules of Life. 5. The Origin of Life and the Scientific Method. 6. Prokaryotes, Earth's Oldest and Simplest Lifeforms. 7. Eukaryotic Cells. 8. Metabolism: Photosynthesis and Respiration. 9. Algae, Fungi, and Lichens: Photosynthesis and Respiration in Action. 10. DNA
...
and RNA--The Molecules of Heredity. 11. Cell Division--Mitosis and Cytokinesis. III. PLANT STRUCTURE AND REPRODUCTION. 12. Plant Structure, Growth, and Development. 13. Stems. 14. Roots. 15. Leaves. 16. Reproduction, Meiosis, and Life Cycles. 17. Genetics and the Laws of Inheritance. 18. Genetic Engineering. 19. Biological Evolution. 20. Plant Evolution and Diversity. 21. Angiosperm Reproduction: Flowers, Fruits and Seeds. 22. Flowering Plants and Animal Co-Evolution: Pollination, Dispersal, Defense. IV. PLANT DIVERSITY AND THE ENVIRONMENT. 23. Principles of Ecology and the Biosphere. 24. Polar Deserts, Tundra, and Taiga. 25. Freshwaters, Wetlands, and Water Quality. 26. Deserts and Desertification. 27. Grasslands. 28. Temperate Deciduous Forests and Chaparral. 29. Tropical Rain Forests. 30. Plants and Human Sustainability.

Graham, Linda E. is the author of Plant Biology, published 2002 under ISBN 9780130303714 and 0130303712. Six Plant Biology textbooks are available for sale on ValoreBooks.com, five used from the cheapest price of $1.50, or buy new starting at $67.58.
[read more]
Product Details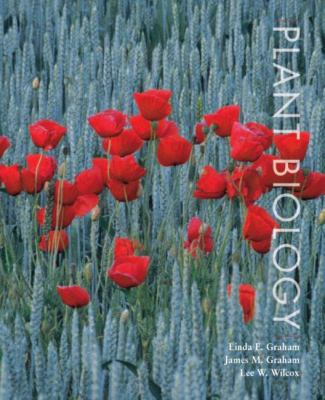 ISBN-13:
9780130303714
ISBN:
0130303712
Edition:
1st
Pub Date:
2002
Publisher:
Prentice Hall
ValoreBooks.com is the best place for cheap Plant Biology rentals, or used and new condition books available to purchase and have shipped quickly.