Physics Workbook for Dummies
Author:
ISBN-13:
9780470169094
ISBN:
0470169095
Pub Date:
2007
Publisher:
John Wiley & Sons Inc
Summary: From Kirchhoff's laws to Carnot engines - solve physics problems with easeGot a grasp on the physics terms and concepts you need to know, but get lost halfway through a problem or, worse, don't know where to begin? No worries - this hands-on guide helps you solve the many types of physics problems you encounter in a focused, step-by-step manner. With just enough refresher explanations before each set of problems, you...'ll sharpen your skills and improve your performance. You'll see how to work with motion, kinetic energy, thermodynamics, electricity, and more!Step-by-step answer sets clearly identify where you went wrong (or right) with a problemGet the inside scoop on the Big Three: acceleration, distance, and timeKnow where to begin and how to solve the most common physics problemsUse physics in practical applications with confidence

Holzner, Steven is the author of Physics Workbook for Dummies, published 2007 under ISBN 9780470169094 and 0470169095. Four hundred Physics Workbook for Dummies textbooks are available for sale on ValoreBooks.com, one hundred forty nine used from the cheapest price of $0.56, or buy new starting at $8.02. [read more]
Product Details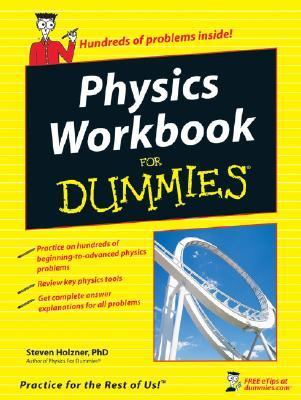 ISBN-13: 9780470169094
ISBN: 0470169095
Pub Date:
2007
Publisher:
John Wiley & Sons Inc
ValoreBooks.com is a student's number one resource for cheap Physics Workbook for Dummies rentals, or new and used condition books ready for you to buy.