Perspectives on Argument (7th Edition)
Author:
8 Customer Product Reviews
ISBN-13:
9780205060337
ISBN:
0205060331
Edition:
7
Pub Date:
2011
Publisher:
Longman
Summary:
You can buy or rent Perspectives on Argument online from our website today and take advantage of the cheapest prices you will see for previously owned textbooks. Written by Nancy V Wood and James Miller, this textbook was published by Longman in 2011. This particular edition is the seventh to be released, so you can benefit from plenty of updated information and insights on the subject. Cheap Perspectives on Argument
...
copies are now available to rent for a semester or a quarter, or to buy outright. We buy back Perspectives on Argument as well, so you can be sure of getting a good price if you want to sell back to us.

Nancy V. Wood is the author of Perspectives on Argument (7th Edition), published 2011 under ISBN 9780205060337 and 0205060331. Two hundred seven Perspectives on Argument (7th Edition) textbooks are available for sale on ValoreBooks.com, forty five used from the cheapest price of $11.10, or buy new starting at $98.87.
[read more]
Rent

$43.40

Used

$11.10

New

$98.87

Alternate

$14.35
Customer Product Reviews
8 REVIEWS

5 star

(2)

4 star

(3)

3 star

(3)

2 star

(0)

1 star

(0)
The primary subject of this book is abnormal psychological themes in people i.e., anorexia, substance abuse, personality disorders, etc...

I would change nothing about this book. I enjoyed it. It opened my mind to alot of information I never knew and I would recommend it to others.

read more

Nothing! This book really helped me strengthen my argument papers and also helped me to see a lot of the fallacies in our country and our political system and the way that they argue. Even besides argument, this book includes most writing skills for the average college writer. Also a great book for class because of all the assignments throughout and The Reader in the back, which is full of stories and essays to view and discuss.Overall, a great book on how to make a strong, valid, logical argument in your paper! Write a paper before you use this book and after and you'll be surprised in the difference.

This combination rhetoric/reader helps readers develop strategies for critical reading, critical thinking, research, and writing that will help the reader argue clearly and convincingly. It teaches them to identify and develop arguments, to read and form reactions and opinions of their own, to analyze an audience, to seek common ground, and to use a wide, realistic range of techniques to write argument papers that express their individual views and original perspectives on modern issues. The critical reading section was helpful because it helped me with writting my papers more convincingly.

read more

I wish it would have gone more in depth on how to cite sources when writing an argumentative paper.

Having a chapter that goes more in depth on citations and how many sources you can quote and site in a paper. I always felt like I cited too much and that most of my paper was just quoting others information.

read more

How to write essays with different topics. I was use to writing paragraphs.

We don't go over everything, so it wasn't very helpful. But it was useful.

read more

The most interesting thing I learned from this book is the many stories in the back of the book. These stories touched various different type of people and places. It was a nice insight into different cultures and time periods.

The primary subject of the book was to help develop a very good argument on a specific topic. It outlined what all needed to be done in order to have an effective argument. It was very effective!

read more

I learned a lot about citing sources in my writing.

Well it helped me to understand some of the formats for writing that my teacher was talking about.

read more

I took a class in Persuasive Writing and this book outlined many aspects of argumentation. A lot of the assignments in our class came directly from this book (i.e. essay questions, short answer assignments, essay evaluations) and I feel that it was a decent book overall.

I liked the sample essays following each topic discussed. The outline of the text was rather simple to follow, as well.

read more

I have never read another book on this subject matter, but the book seemed a little dumb. It pretty much told me common sense info that I feel like everyone already knows.

The most useful thing that I learned from this book was the TRACE method to forming a strong argument.

read more
SEE MORE REVIEWS
Product Details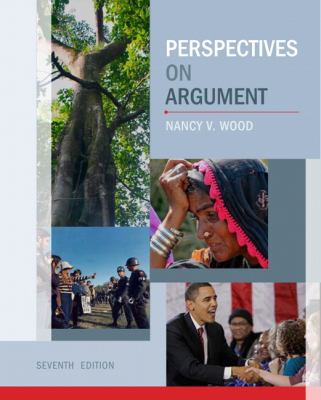 ISBN-13:
9780205060337
ISBN:
0205060331
Edition:
7th
Pub Date:
2011
Publisher:
Longman
Valore Books is your source for cheap Perspectives on Argument (7th Edition) rentals, or new and used copies ready to be shipped fast.