Pediatric Nursing Care
Author:
ISBN-13:
9780132379861
ISBN:
0132379864
Pub Date:
2008
Publisher:
Prentice Hall Higher Education
Summary: The nature of nursing is Pediatric Nursing Care Ellise Adams, CNM, MSN, CD (DONA), ICCE Mary Ann Towle, RN, MEd, MSN The nature of nursing embodies the ever-changing rewards and challenges for today s practical and vocational nursing students. Pediatric Nursing Care provides a foundation for safe, effective nursing care of the growing child within the community. Features that promote success include: Critical thinkin...g care maps and case studies to engage problem-solving for likely situations. Health Promotion Issues that explore current issues in healthcare and provide management solutions. Extensive review for NCLEX-PN exam preparation. Nursing care features such as priorities in nursing care, nursing care checklists, clinical alerts, and nursing process care plans. Step-by-step procedures with rationales of nursing actions. Additional resources include: Student CD-ROM with an audio glossary, animations and videos, and NCLEX-PN style review questions. Companion Website at www.prenhall.com/adams with chapter-specific online resources, case studies, and additional NCLEX- PN -style questions. Student workbook with chapter review activities and critical thinking case studies. The nature of nursing grow with it!

Adams, Ellise is the author of Pediatric Nursing Care, published 2008 under ISBN 9780132379861 and 0132379864. Nineteen Pediatric Nursing Care textbooks are available for sale on ValoreBooks.com, thirteen used from the cheapest price of $0.95, or buy new starting at $32.35. [read more]
Product Details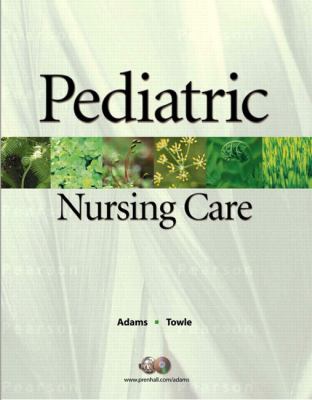 ISBN-13: 9780132379861
ISBN: 0132379864
Pub Date:
2008
Publisher:
Prentice Hall Higher Education
Valore Books is your source for cheap Pediatric Nursing Care rentals, or used and new copies available to buy.