Pediatric Emergency Medicine Just the Facts
Author:
ISBN-13:
9780071400862
ISBN:
0071400869
Publisher:
McGraw-Hill Professional Publishing
Summary: Distilling the most critical information from the leading text in pediatric emergency medicine, this concise, yet comprehensive review is the perfect tool to prepare for in-service or licensing exams, for re-certification, or for use as a clinical refresher. Its highly efficient format conveniently condenses and simplifies only the most important content, for maximum yield and comprehension.What's more, over 600 boar...d-type questions enable you to assess your understanding of the content.FEATURES: *Standardized, bulleted format emphasizes key points of epidemiology, pathophysiology, clinical features, diagnosis and differential, and treatment *Highlights and summarizes key concepts, to assure quick absorption of the material and reinforce your understanding of even the most difficult topics *Includes over 600 board-type questions with fully explained answers, referenced to Strange et al.: PEDIATRIC EMERGENCY MEDICINE, 2/E *Chapters are logically organized to help focus your study and provide quick access to specific subjects, including: *Resuscitation *Trauma Care *Respiratory Emergencies *Cardiovascular Emergencies *Neurologic Emergencies *Infectious Disease Emergencies *Gastrointestinal Emergencies *Endocrine and Metabolic Emergencies *Genitourinary Emergencies *Dermatologic Emergencies *Oral, Ear, Nose, and Throat Emergencies *Eye Emergencies *Gynecologic and Obstetric Emergencies *Hematologic Emergencies *Oncologic Emergencies *Nontraumatic Bone and Joint Disorders *Toxicologic Emergencies *Environmental Emergencies *Psychosocial Emergencies *Emergency Medical Services *Ethical and Legal Issues *Much more

Strange, Gary R. is the author of Pediatric Emergency Medicine Just the Facts, published under ISBN 9780071400862 and 0071400869. Twenty five Pediatric Emergency Medicine Just the Facts textbooks are available for sale on ValoreBooks.com, ten used from the cheapest price of $4.80, or buy new starting at $38.51. [read more]
Used $4.80
New $38.51
Alternate $46.15
Product Details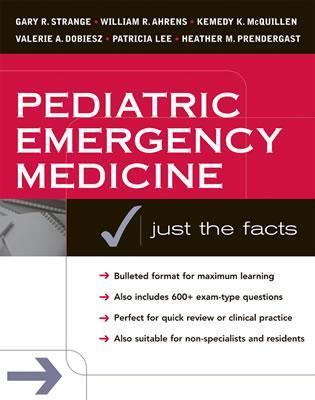 ISBN-13: 9780071400862
ISBN: 0071400869
Publisher:
McGraw-Hill Professional Publishing
Valore Books is the college student's top choice for cheap Pediatric Emergency Medicine Just the Facts rentals, or used and new copies that can get to you quickly.