Parliamo Italiano 3rd Ed
Author:
ISBN-13:
9780618533053
ISBN:
0618533052
Edition:
3
Pub Date:
2005
Publisher:
Houghton Mifflin College Div
Summary:
Table of Contents Note: Each Unit includes Communicative goals. Unitagrave; Preliminare. Per cominciare A. Le presentazioni B. I saluti C. L'alfabeto D. I numeri da 0 a 100 Unitagrave; 1. Visitare: Siamo a Roma! Lazio: Roma A. La geografia B. La cittagrave; C. I mesi dell'anno D. La data Immagini e parole La geografia del Bel Paese Una gita a Roma: Scanning for cognates Scriviamo italiano!: Keeping a journal Unitagra
...
ve; 2. Studiare: Impariamo L'italiano! Emilia-Romagna: Bologna A. La lezione B. La casa dello studente C. L'universitagrave; D. La vita scolastica Immagini e parole Il sistema scolastico in Italia Scriviamo italiano!: Using a bilingual dictionary Unitagrave; 3. Abitare: Andiamo a Casa Mia! Sicilia A. La famiglia B. La casa C. Il tempo D. In centro Immagini e parole Come si vive in Italia Casa dolce casa Scriviamo italiano!: Using lists to write compositions Unitagrave; 4. Comprare: Facciamo Delle Commissioni! Umbria A. Al mercato all'aperto B. I soldi C. Le commissioni D. I negozi Immagini e parole La spesa quotidiana Scriviamo italiano!: Improving writing skills Unitagrave; 5. Mangiare: Tutti a Tavola! Liguria: Genova A. Al bar B. In trattoria C. Al ristorante D. In cucina Immagini e parole La cucina italiana: i sapori d'Italia Una ricetta Scriviamo italiano!: Using models Unitagrave; 6. Rilassarsi: Cosa Facciamo Di Bello? Veneto A. Hobby e tempo libero B. Lo sport C. La passeggiata D. Al mare e in montagna Immagini e parole Venezia "La Serenissima" Scriviamo italiano!: Sequencing and chronological order Unitagrave; 7. Vestirsi: Vestiamoci Alla Moda! Lombardia: Milano A. Il corpo, la salute B. L'abbigliamento C. Fare acquisti D. La moda Immagini e parole Il Made in Italy La Moda Freestyle Scriviamo italiano!: Comparing and contrasting Unitagrave; 8. Lavorare: Lavoriamo Insieme! Piemonte: Torino A. Le profesioni B. I mezzi di trasporto C. L'industria D. Il colloquio di lavoro Immagini e parole L'Italia: quinta potenza industriale al mondo Scriviamo italiano!: Curriculum vitae, Business letters Unitagrave; 9. Viaggiare: Andiamo in Vacanza! Sardegna A. Le ferie B. Alla stazione ferroviaria C. All'agenzia di viaggio D. All'aeroporto Immagini e parole Dove andiamo in vacanza? La Sardegna archeologica Scriviamo italiano!: Writing an e-mail Unitagrave; 10. Divertirsi: Usciamo Stasera! Campania A. Gli spettacoli, il teatro e il cinema B. La musica classica e l'opera lirica C. La musica leggera D. Il Sabato sera Immagini e parole Un popolo di artisti Scriviamo italiano!: Expressing opinions Unitagrave; 11. Leggere: Recitiamo Una Poesia! Toscana: Firenze A. La letteratura B. La libreria C. La stampa: giornali e riviste D. La televisione Immagini e parole La letteratura italiana Leggiamo italiano!: Figuring out unfamiliar words L'Acca in fuga (Gianni Rodari) Scriviamo italiano!: Creative writing Unitagrave; 12. Sognare: Immaginiamo Il Futuro! L'italia: Stato d'Europa A. La politica B. L'italiano medio C. L'Italo-americano D. L'Italia in Europa Immagini e parole L'Italia, Stato d'Europa Scriviamo italiano!: Organizing an essay Appendices A. Essere e avere B. Verbi regolari C. Verbi coniugati con essere D. Verbi con participio passato irregolare E. Verbi irregolari Index

Branciforte, Suzanne is the author of Parliamo Italiano 3rd Ed, published 2005 under ISBN 9780618533053 and 0618533052. Thirty four Parliamo Italiano 3rd Ed textbooks are available for sale on ValoreBooks.com, thirty one used from the cheapest price of $3.94, or buy new starting at $38.96.
[read more]
Product Details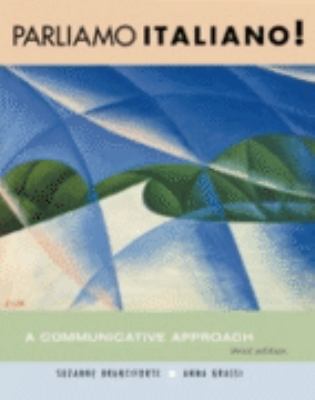 ISBN-13:
9780618533053
ISBN:
0618533052
Edition:
3rd
Pub Date:
2005
Publisher:
Houghton Mifflin College Div
Valore Books is your source for cheap Parliamo Italiano 3rd Ed rentals, or used and new copies that can get to you quickly.