Out of the Depths
Author:
ISBN-13:
9780373874071
ISBN:
0373874073
Pub Date:
2006
Publisher:
Harlequin Enterprises, Limited
Summary:
"Good morning! What a beautiful day," Trudy Lynn said, stepping out onto the porch of her cabin to greet her elderly hired hand. "Don't you love the Ozarks this time of year?" "Yes'm." Will took off his sweat-stained baseball cap and held it in front of him. "Morning, Miz Brown. Can't say it's too good, though. Maybe you'd best sit down." She shaded her eyes and braced for the worst. "What now?" The look on Will's le
...
athery face made her heart sink. "Not more of the same?" "Fraid so." "Oh, no." It wasn't fair. Not after all the sacrifices she'd made to keep this business going. She'd hung on and finally prospered when other campgrounds and canoe rentals around her had closed. This year, she'd even managed to buy a bit of new equipment. "What did they do this time?" Trudy asked nervously. "Took out three more of them new red canoes. Looks to me like we'd best put 'em in storage and use the old ones for now. You can't keep buyin' new ones if some-body's gonna go knockin' holes in 'em." "I know." Pensive, she stood at the porch railing and gazed fondly at the neat campsites arrayed beside the Spring River. Oaks and hickory had greened up, while dog-woods were almost done with their blooms. Every day, new varieties of wildflowers appeared, some with blossoms so tiny they could hardly be seen. The only thing spoiling the picture was the knowledge that someone despised her enough to try to ruin her. "Okay," Trudy told Will. "Take Jimmy and have him help you load what's left of my best canoes on the spare trailer. I'll tow it down to Serenity and rent a storage spot to park it. I just hate to back down like this." "What else can we do?" "Nothing. We can't stay up every night to stand guard and still hope to function well during the day, especially not when peak season gets here. Besides, it's too dangerous for amateurs like us. And hiring a real security man would cost way too much." "How 'bout that ornery little dog of yours? We could tie him down by the boats. He's sure to make a racket if anybody strange comes around." Trudy Lynn laughed softly and shook her head. "You know Widget barks at everything, including rabbits and deer. He'd sound false alarms and keep us running all night long." "Prob'ly." The stooped old man nodded sagely. "Okay, Miz Brown, I'll fetch Jimmy and we'll load up them new canoes for you. He's not gonna like doing it, though." "What my cousin likes or doesn't like isn't your problem, Will. It's time he learned that his brains aren't the only reason I hired him. It shouldn't take all day to keep our accounts current. When he's not busy in the office I expect him to lend a hand outside, not sit around playing computer games." "That, I gotta see." "You will. I promise," Trudy Lynn said, smiling. "He's my kin. I can always threaten to tell Grandma Earlene if he doesn't behave. Otherwise, I'll fire him, just like I did that Randall boy." The old man put his cap back on and hesitated, squinting against the bright sunlight. "You be careful who you rile up. So far, all we've lost is a few boats. I don't want to lose you, too." Smiling wryly he added, "I'd never find another job as easy as this one. Not at my age." She chose to take him seriously in spite of his jesting tone. "You be careful, too, you old coot. I'd never find another helper as savvy and hardworking as you are." Will's throaty chuckle warmed her heart. "Now get going." "Yes, ma'am. You gonna be tending the camp store?" "No. The new girl's a fast learner. She can cope with the store. Farley's had enough training to handle canoe launches by himself till you're free. As soon as you and Jimmy get that trailer hitched and loaded, bring the truck up here, and I'll head for Serenity." "Yes'm." Watching Will shuffle away, Trudy Lynn marveled at his devotion. He was a jewel, all right, but he was no kid. How much longer could he keep

Hansen, Valerie is the author of Out of the Depths, published 2006 under ISBN 9780373874071 and 0373874073. Twelve Out of the Depths textbooks are available for sale on ValoreBooks.com, eight used from the cheapest price of $0.01, or buy new starting at $0.31.
[read more]
Product Details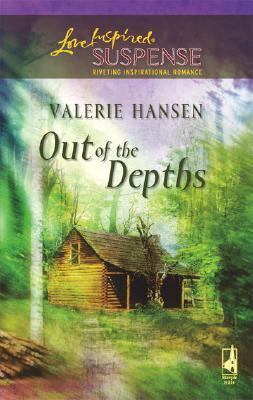 ISBN-13:
9780373874071
ISBN:
0373874073
Pub Date:
2006
Publisher:
Harlequin Enterprises, Limited
www.ValoreBooks.com is the top book store for cheap Out of the Depths rentals, or new and used condition books for purchase.