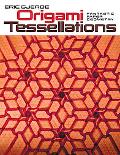 Origami Tessellations Fantastic Paper Geometry
Author:
ISBN-13:
9781579909796
ISBN:
1579909795
Pub Date:
2008
Publisher:
Lark Books
Summary:
Tessellationsshapes repeated over and over to fill a plane without overlappinghave inspired beautiful art, from intricate tile work to M.C. Escher's playful graphics. Now, master origami artist Eric Gjerde has produced the same stunning kaleidoscopic patterns simply by folding paper! His awe-inspiring collectionthe first of its kindexplores the creative possibilities of origami tessellations. The techniques will capt
...
ivate anyone interested in papercrafting, mathematics, architecture, and design. Gjerde meticulously walks you through all the key folds and creases. Twenty-five projects are organized by complexity, beginning with the easy-to-learn Tiles Hexagon Tessellation and continuing to more exotic designs, like Arms of Shiva, Field of Stars, and Aztec Twist. Each one appears in extremely close-up photos (sometimes backlit) and an inspiring gallery of breathtaking tessellations by origami artists concludes the book.
[read more]