Ordinary Differential Equations
Author:
ISBN-13:
9780486649405
ISBN:
0486649407
Pub Date:
1985
Publisher:
Dover Pubns
Summary: Skillfully organized introductory text examines origin of differential equations, then defines basic terms and outlines general solution of a differential equation. Subsequent sections deal with integrating factors; dilution and accretion problems; linearization of first order systems; Laplace Transforms; Newton's Interpolation Formulas, more.

Tenenbaum, Morris is the author of Ordinary Differential Equation...s, published 1985 under ISBN 9780486649405 and 0486649407. Six hundred twenty six Ordinary Differential Equations textbooks are available for sale on ValoreBooks.com, one hundred eighteen used from the cheapest price of $12.71, or buy new starting at $14.38. [read more]
Rent $9.99
Used $12.71
New $14.38
Product Details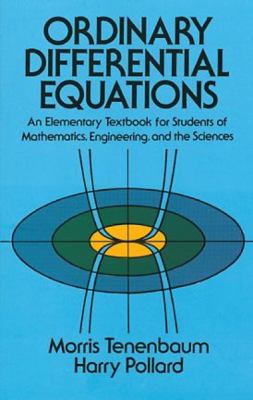 ISBN-13: 9780486649405
ISBN: 0486649407
Pub Date:
1985
Publisher:
Dover Pubns
Valore Books is the best place for cheap Ordinary Differential Equations rentals, or new and used condition books ready for you to buy.