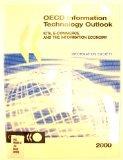 OECD Information Technology Outlook 2000: ICTs, E-Commerce and the Information Economy
Author:
ISBN-13:
9789264171855
ISBN:
9264171851
Edition:
0
Pub Date:
2002
Publisher:
Organization for Economic Cooperation and Development
Summary:
This book describes the rapid growth in the supply and demand for information technology goods and services and their role in the expanding Internet economy, and looks at emerging uses of information technology. It makes use of the new official national sources of data which are becoming available as statistical mapping of the information economy improves. Topics addressed include the importance of information and co
...
mmuni-cations technologies (ICT) in national economies, the development of information technology markets, links between the use of information technologies (notably in PCs) and developments in network infrastructure, the issues of trust and security surrounding electronic payments, the development of global navigation systems, and flat panel display technologies.
[read more]
Product Details
ISBN-13:
9789264171855
ISBN:
9264171851
Edition:
0th
Pub Date:
2002
Publisher:
Organization for Economic Cooperation and Development