Object of Performance
Author:
ISBN-13:
9780226735573
ISBN:
0226735575
Publisher:
University of Chicago Press
Summary: Sayre defines for the first time the apparently diffuse avant-garde art of the past two decades in terms of its distinctly postmodern concerns. The range of arts discussed here encompasses contemporary dance, photography, oral poetics, performance art, and earthworks. "Sayre has written one of the most intelligent, sensible, and readable accounts of the tenents of Postmodern artmaking published to date."--Jeff Abell,...New Art Examiner "No one can readThe Object of Performancewithout gaining a far better idea than before of what has happened to art, and, in some measure, why. . . . I find this book consistently illuminating."--Arthur C. Danto

Sayre, Henry M. is the author of Object of Performance, published under ISBN 9780226735573 and 0226735575. Twenty two Object of Performance textbooks are available for sale on ValoreBooks.com, seventeen used from the cheapest price of $8.23, or buy new starting at $40.46. [read more]
Product Details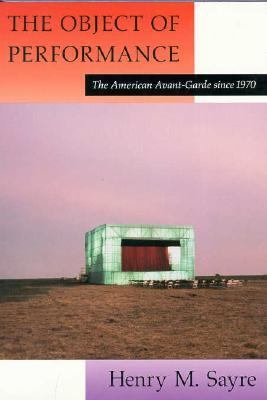 ISBN-13: 9780226735573
ISBN: 0226735575
Publisher:
University of Chicago Press
Valore Books is a student's number one resource for cheap Object of Performance rentals, or used and new condition books that can be mailed to you in no time.