O Holy Cow!
Author:
ISBN-13:
9780061567131
ISBN:
0061567132
Pub Date:
2008
Publisher:
HarperCollins Publishers
Summary: Phil Rizzuto, famed shortstop and broadcaster extraordinaire for the New York Yankees, has waxed poetic on America's favorite pastime since the glorious days of Mantle and Maris. For more than a quarter century the Bard of the Booth has captured great moments in baseball - and effortlessly woven them together with essential and often hilarious insights into the human condition. Editors Tom Peyer and Hart Seely have f...orever captured Rizzuto's unmistakable voice in this collection, which gathers his funniest and most inspiring verses - from comments on Maris getting booed to explications of how the Red Sox control the weather. With an introduction by Roy Blount, Jr., and game stats following each poem, "O Holy Cow!" is a must for baseball fans, Scooter devotees, and everyone interested in major league fun.

Rizzuto, Phil is the author of O Holy Cow!, published 2008 under ISBN 9780061567131 and 0061567132. Two hundred one O Holy Cow! textbooks are available for sale on ValoreBooks.com, seventy five used from the cheapest price of $0.01, or buy new starting at $4.21. [read more]
Product Details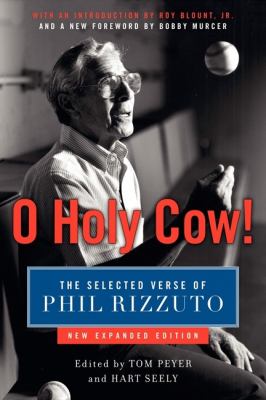 ISBN-13: 9780061567131
ISBN: 0061567132
Pub Date:
2008
Publisher:
HarperCollins Publishers
ValoreBooks.com is a student's number one resource for cheap O Holy Cow! rentals, or new and used condition books for purchase.