Native Speaker
Author:
1 Customer Product Review
ISBN-13:
9781573225311
ISBN:
1573225312
Pub Date:
1996
Publisher:
Berkley Pub Group
Summary: "[Lee's] interest lies in language, culture, and identity; for him, the spy makes a convenient symbol for the American immigrant."

Lee, Chang-Rae is the author of Native Speaker, published 1996 under ISBN 9781573225311 and 1573225312. Four hundred ninety two Native Speaker textbooks are available for sale on ValoreBooks.com, two hundred forty eight used from the cheapest price of $1.79, or buy new starting a...t $11.46. [read more]
Rent $24.68
Used $1.79
New $11.46
Customer Product Reviews
1 REVIEW
5 star(0)
4 star(1)
3 star(0)
2 star(0)
1 star(0)
Average Customer Review
I was excited to be exposed to the different styles of writing composition in this book. It was also a great read the different stories that are enclosed in the book.

The most useful information was learning how influential the family structure is to the development of children.

read more
Product Details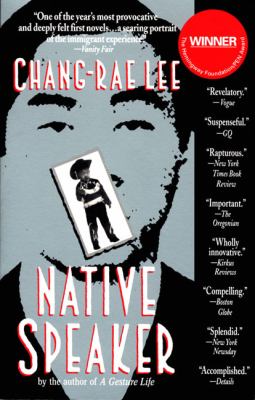 ISBN-13: 9781573225311
ISBN: 1573225312
Pub Date:
1996
Publisher:
Berkley Pub Group
ValoreBooks.com is hard to beat for cheap Native Speaker rentals, or used and new copies available to buy.