Nationalism
Author:
ISBN-13:
9780192892607
ISBN:
0192892606
Pub Date:
1995
Publisher:
Oxford Univ Pr
Summary:
Achieving prevalence as an ideology in the political and social ferment of late 18th-century Europe and America, nationalism first found expression during the course of such historical upheavals as the American and French Revolutions. Its founders and early sponsors--Rousseau, Herder, Fichte, Korais, and Mazzini--looked to nationalism as the manifestation of modern humanity's most essential aspirations: autonomy, uni
...
ty, identity. Born of notions regarding popular freedom and sovereignty that had been gathering momentum for generations, it conjured up images of a modernizing West at once hungry for change and yearning for a return to age-old concepts of fraternity and ancient heritage. Since that time nationalism, having taken on countless different dimensions, remains a vital and dynamic force for change--whether for good or otherwise. Despite only recently becoming the subject of scholarly debate, nationalism has been the focus of a truly prodigious amount of writing. This important Oxford Reader makes the topic more accessible by offering a broad, authoritative treatment of the key contributions to the subject, while giving unprecedented depth to recent debates and issues. Edited by two of the field's most influential scholars, the readings are representative of the vast array of experience and scholarship that have shaped the concept of nationalism for over two centuries. From Ernest Renan's What is a Nation?, written in the 1880s, to the more current views of the 1990s, Nationalism gathers under one cover an impressive array of writing on everything from imagined communities to ethno-regional movements. In no other volume will students of politics, history, sociology, anthropology, international relations, and cultural studies have access to such a definitive appraisal of one of the modern world's most influential--and explosive--ideas.

Smith, Anthony is the author of Nationalism, published 1995 under ISBN 9780192892607 and 0192892606. One hundred fifty Nationalism textbooks are available for sale on ValoreBooks.com, fifty nine used from the cheapest price of $10.56, or buy new starting at $28.14.
[read more]
Product Details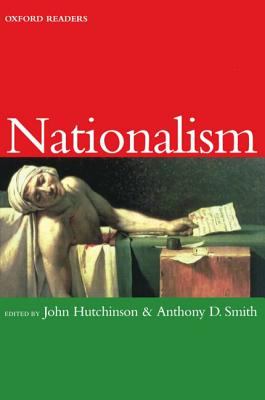 ISBN-13:
9780192892607
ISBN:
0192892606
Pub Date:
1995
Publisher:
Oxford Univ Pr
ValoreBooks.com has some of the lowest prices for cheap Nationalism rentals, or new and used condition books for purchase.