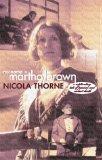 My Name Is Martha Brown
Author:
ISBN-13:
9780002259491
ISBN:
0002259494
Pub Date:
2000
Publisher:
HarperCollins Publishers
Summary:
In 1856 Martha Brown was hanged for the murder of her husband, John Brown. John was 20 years her junior and it is supposed that he fell in love with a younger woman. This novel is based on this true story of passionate love and violent death.
Product Details
ISBN-13:
9780002259491
ISBN:
0002259494
Pub Date:
2000
Publisher:
HarperCollins Publishers