Microporomechanics
Author:
ISBN-13:
9780470031889
ISBN:
0470031883
Pub Date:
2006
Publisher:
Wiley & Sons, Incorporated, John
Summary:
Microporomechanics encapsulates the study of the micromechanics of porous media. Porosity is the most prominent heterogeneous property of all natural and most engineered composite materials, and is key to the understanding and prediction of macroscopic materials behaviour. As new experimental techniques such as nanoindentation now provide unprecedented access to micromechanical properties and morphologies of material
...
s, it becomes possible to trace these features from the nanoscale to the macroscale of day-to-day engineering applications, and predict transport properties, stiffness, strength and deformation behaviours within a consistent framework of microporomechanics. Authored by recognised leading experts in the field of microporomechanics Introduces high quality landmark research that proposes a new framework for the description of the behaviour of porous materials Composed of a logical and didactic build-up from fundamental concepts to state-of-the-art theory Synergises the disparate subject areas of poromechanics and micromechanics Includes a variety of original problem sets that provide a hands-on application of the homogenization theories to specific materials configuration Microporomechanics provides a first introduction to the micromechanics of porous media, and offers an invaluable resource for academic and industrial research scientists and engineers. It will also appeal to graduate students in biomechanics and bioengineering, civil and environmental engineering, geophysics and geomechanics, materials science, and engineering related to petroleum and gas exploration.

Dormieux, Luc is the author of Microporomechanics, published 2006 under ISBN 9780470031889 and 0470031883. One hundred seventy five Microporomechanics textbooks are available for sale on ValoreBooks.com, fifty one used from the cheapest price of $107.17, or buy new starting at $107.17.
[read more]
Product Details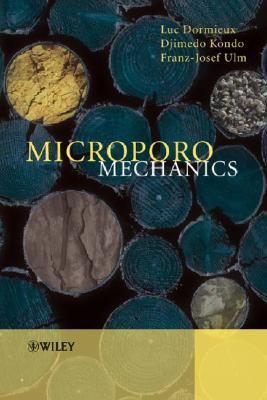 ISBN-13:
9780470031889
ISBN:
0470031883
Pub Date:
2006
Publisher:
Wiley & Sons, Incorporated, John
www.ValoreBooks.com is hard to beat for cheap Microporomechanics rentals, or used and new copies that can get to you quickly.